Review Roundup: Anal Beads, 'Gamer Girls' & More
Adult Empire's Review Roundup is your one-stop shop for AE DVD/novelty reviews!
First up, check out the latest edition of Turning It On With Adult Empire, featuring Chelsea's take on anal beads:
MOVIES
Reviewed by Willy Milano
3/5 Stars
Gamer Girls from TrenchcoatX and director/performer Kayden Kross looks like a very promising flick if you're into cosplay and gaming porn. Now, the thing I personally find a little disappointing is the inclusion of two lesbian sex scenes in the movie. I know there are lots of gamer girls, but I have this crazy idea that guys watch more porn than girls. Anyway, it would have been awesome to have Chun-Li (Ayumi Anime) getting ravaged by a dick.
Reviewed by Willy Milano
4.5/5 Stars
Club VXN Vol. 1 from Vixen and director Greg Lansky marks the start of a new sexy series from this company and multi-awarded director. There are four sex scenes from different nature like a lesbian scene, a FFM threesome, and two one-on-one sex scenes. The movie could have potential if you're a fan of sexy, petite women, engaging short plots and fun sex. Let's find out with this review if this movie is worth your time and bucks!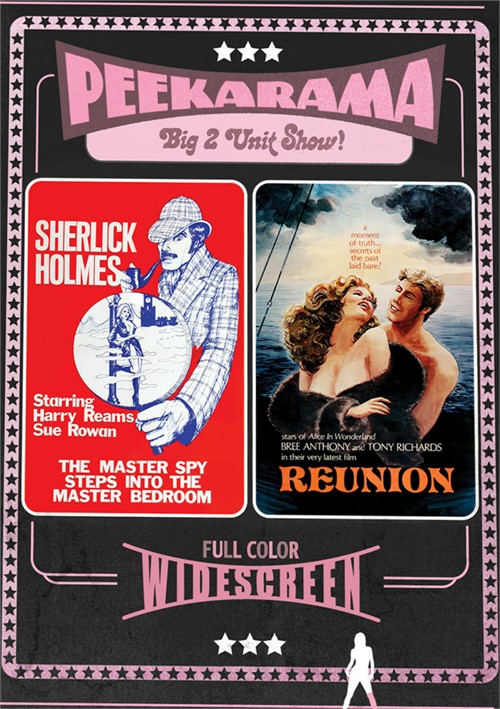 Peekarama: Sherlick Holmes / Reunion (Vinegar Syndrome)
Reviewed by PhilNY
5/5 Stars
I was more than excited to be able to review this DVD. Two films, from 1975 & 1976, scanned & restored from 35mm. The golden age of porn. The first film is Sherlick Holmes with Harry Reems & Zebedy Colt. A brilliant little cartoon to start it off & then we find the famous literary character bending over Maureen Anderson while telling Watson about his new "case." It does not take long for Watson to cum after a sucking by Maureen. The sex is inconsequential but Watson's cumshot was ok.
TOYS
Tenga Easy Beat Egg – Crater (Tenga)
Reviewed by Domineera

4.75/5 Stars
Ah, the Tenga Egg! We love these things. We have tried so many different varieties of them and the packaging is cute. It's easy to open and it's like an Easter egg but for adults. Inside the egg you will find some lube conveniently packaged for your first time using it. You can take it on the go with you and keep it in its shell to keep it clean. Continue Reading >>
JO H20 Banana – 1oz. (System Jo)

Reviewed by Domineera
4.5/5 Stars
Do you like the fruity taste and scent of bananas? You will love this lube! I like to use it for foreplay to give my man a handjob before I blow him. The best part is I get to experience the alluring scent of bananas while doing it which is a plus for me. Continue Reading >>
Inmi Shegasm Pro (Cousins Group Toys)
Reviewed by Domineera

5/5 Stars
I have tried other clit stimulating toys such as this, and they were wonderful, so I was expecting this one to be relatively the same. Not true! The Inmi takes that clit sucking design that has become so popular and added a few bells and whistles to make the masturbation, or even couples play, to a whole new level. Continue Reading >>