Interview: Daisy Ducati Talks Fantasy Club & More
Daisy Ducati is never timid in the way she describes herself. In her own vividly memorable words, she is a "sadistic showgirl," "digital perv," and "attention whore." Her consummate ability to bring such fantasies to life earned her a 2023 AVN Niche Performer of the Year nod. She's also one of the signature stars on Fantasy Club, the new Adult Empire-powered streaming platform (currently in beta). In this new interview, Ducati discusses Fantasy Club, streaming, femdom, her role in Marriage 2.0, and much more. (Visit Fantasy Club today, and learn more about its beta launch here.)
What have been some of your most memorable experiences as a streamer?
I've done a ton of live virtual stripper shows and once when I was dancing on my pole for a live performance, The whole pole came crashing down and punched a hole in my wall. I was ok, but but my pride was not. All I could do was pick myself up and "ta-da!" like it was supposed to happen, but I was mortified. Since then I've always been very careful about how I mount my pole and it hasn't happened again.
How did you first become familiar with Fantasy Club?
I was approached by another performer last year about the Beta Testing program and now I'm participating in the second round of Beta Testing.
What aspects of the Fantasy Club platform do you enjoy the most?
I love that Fantasy Club is taking performer and user experience into account through the Beta Testing program. So many adult sites have the absolute worst customer service and Fantasy Club is utilizing the input of the people who will actually be using the site to constantly improve and create a better user experience. It's surprisingly rare to have my input matter on the platforms that use.
Compare and contrast cam/streaming content versus a conventional porn shoot. Which do you enjoy most, and what are the advantages of each?
Streaming and conventional porn are two very different worlds with a lot of overlap. Live adult content is very interactive, personal, and unpredictable. Every time I try to plan a specific show, I have to keep in mind that anything can happen while I'm live. It all depends on the vibe of the room. Studio porn, however, is about figuring out what is popular and shooting exactly that. Ideally, eveything is planned and negotiated in advance, scene partners, concept, sex acts etc. Once I shoot that kind of scene, unless I'm the producer, it's out of my hands what happens after that. While porn scenes are are about putting on the best performance and hoping the viewers enjoy it, streaming is more about building a relationship to our audience and letting fans get a little closer and more intimate of an experience.
When camming what's your favorite way to connect with your audience?
When I'm on cam, fans get a a more intimate perspective. I like to tell stories, talk about projects I'm working on, and show exclusive peeks into my creative process. I like to keep things pretty casual on cam so that my viewers and I can get to know each other better.
Fantasy Club is about "Expanding consciousness one fantasy at a time." What are the best ways to expand the horizons of porn customers?
One of the things that has been discussed as part of the Beta program is letting performers choose how to tag their own content. Many adult sites categorize content and streamers by using key words that are often offensive to the people they are used to describe. When viewers see these offensive tags over and over, they may not realize that the performers find them offensive. By asking us how we would like to tag our own content, we are given an opportunity to teach our fans how we would like to be described. Our fans are willing to learn for the most part, we just have to be able to teach them.
Marriage 2.0 generated a lot of buzz when it was released in 2015. What are your main memories of that particular project?
Marriage 2.0 was a really cool project to be a part of. That was the very first film I was a part of that had a live premiere and I will never forget the feeling of seeing my pussy 30ft tall on screen at a historic San Francisco theater and hearing all my friends in the audience cheering. It was a pretty amazing feeling.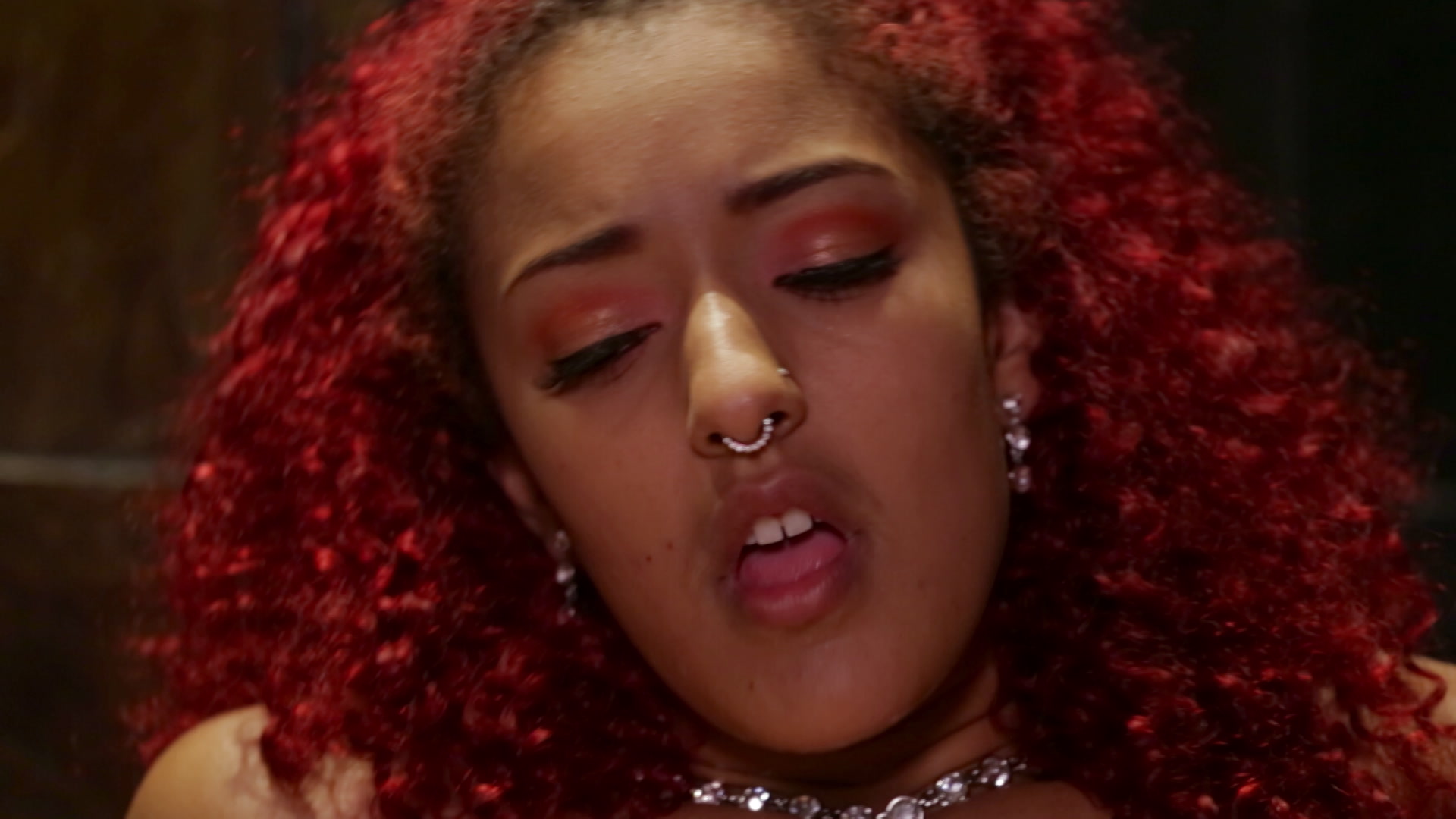 What are the biggest misconceptions about femdom?
Probably the single biggest misconception about femdom is that dommes are mean and stern all of the time. We laugh, we smile, some of us wear bright colors. It isn't all black latex and yelling. It's possible to be dominant without being an asshole and I don't go around talking down to every person I meet.
Tell us about Yes, A Stripper Podcast!
Yes, A Stripper Podcast was started by AM [Davies] as an avenue for strippers to speak their truths and have their voices heard. So often sex workers in general are spoken about and spoken over but never heard. AM gave us a platform to tell our own stories. I was brought on as a host in 2021 along with Onyx and Gigi and we were able to broaden the range of experiences represented on the show. Right now we are on a long hiatus but there are so many juicy past episodes for listeners to check out on your favorite podcast platform.
What's your favorite sex toy?
My absolute favorite sex toy is my wand vibrator from Naughty Bits. It's the pefect size, its absolutely adorable, and it's waterproof and insertable. This vibrator is so powerful I could probably hammer nails with it.
What's the key to creating on screen chemistry with your co-stars?
If you want the sparks to fly, you have to be more than hot. You have to be a professional flirt and actively seduce your scene partner. You have to be present in the moment and bring the energy. Dirty talk and eye contact always help.
What have you learned about yourself sexually since joining the industry?
I have learned more than I ever care to put into words since I've joined the adult industry. I feel like my sexuality went from caterpillar to butterfly in the last 10ish years. The industry has given me so many oppurtunities to safely try all sorts of things that were so far beyond my wildest fantasies. I've discovered countless new kinks and had so many memorable experiences. The biggest thing I've learned though, is that I have not seen it all and I will never run out of new things to try.
Talk a little bit about social media. Love it or hate it?
-I am an absolute attention whore. HOWEVER, I hate the way that social media has turned our personal lives into public business. I am a human being and not everything I do needs to be presented for public consumption, but because I'm also running my sexy little business, I feel like I'm obligated to post constantly to apps that hate everything about what I do. When I started porn, Instagram and Twitter were brand new and Tiktok didn't exist. I remember when Vine allowed porn and I could buy ads for my content on Twitter. The game has changed and I hate it. It feels like I'm tiptoing through a minefield in 8″ Pleasers and I'm not allowed to rest.
Currently, what are your favorite TV shows, music, movies, books, etc.?
I don't watch a lot of normal TV shows, I like horror movies from the 1900s and I watch a lot of art and nature content on YouTube. Lately I've been obsessively learning about Bonzai trees and Paladariums.
What does a typical day look like for you?
There is no such thing as a typical day in casa Ducati. Every day is some weird new adventure. Some days I get up early to film a hot girl squirting enema water across the room, some days build lego sets and furniture in my lingerie on cam, and other days I stay in bed all day hugging dogs and plotting world domination or just editing porn.
Tell us about your fitness routine.
My brain is not wired for routines of any kind, so I try to work out throughout my day and incorporate lots of physical activity into eveything I do. Sometimes I do yoga and calisthenics on cam, sometimes I take my dogs for long hikes, I pole dance, I do burlesque, I wrestle. I also got a fitness tracker about a year ago and apparently the way I run around my house getting ready for things registers as a workout.
Where do you see yourself in 5 years?
I see myself on a beach somewhere warm with a daquiri and a tan.
What is your go-to coffee order?
It depends on where I order. I usually go for a giant cold brew with some coconut milk. I generally like the taste of plain coffee but sometimes I'll flavor it with cinnamon, mint, or lavender.
What upcoming projects are you working on?
I just finished filming another horror movie called "The After Dark" with director Tom Devlin that should be available for streaming soon. I also produce a monthly burlesque show just outside of Vegas called "Daisy Ducati Presents: Dangerous".