Digital Sin Invites You 'In The Room' (Exclusive VOD)
Imagine you've been invited to an old friend's house for a visit. You knock on the front door, but no one answers. Knowing your friend to be somewhat absent-minded, you open the door and call out for them. No answer! Puzzled, you peer around the corner into the next room, only to find your friend stripped down and swept away in a passionate embrace. Most people would be embarrassed, but others would allow their inner voyeur and exhibitionist to take over. In The Room: I Like To Watch, the newest Adult Empire VOD exclusive (through 12/7/18), focuses on scenarios featuring the watched and the watchers. If you've ever felt a frisson of pleasure when hearing your next-door neighbors enjoy a late-night tryst, In The Room is a must-watch. Featuring top stars such as Angela White and Abella Danger, the movie lets you witness sexy hookups from a voyeur's perspective. Check out a scene-by-scene breakdown here:
Scene One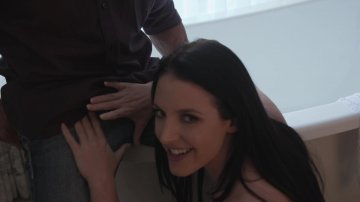 Angela White's character is in the midst of photoshoot when her boyfriend, Tommy Gunn, drops by to deliver some of the lingerie she'll need for certain pics. She and Tommy decide to turn the brief break into the perfect moment for a quickie, but they're interrupted by the photographer. After teasing the photographer for being a bit of a pervert, they smile and agree to let him watch it all . . . (The scene is shot in POV style to give you the full experience of being the voyeur.)
Scene Two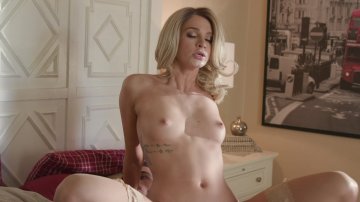 "You're gonna make me cum!" Emma Hix screeches repeatedly as she gets slammed doggie style in the opening moments of scene two. Toolbox in hand, Handyman Lucas Frost has no idea what he's getting into when he inadvertently wanders in on this scene of passion. Lucas apologizes and attempts to leave, but Emma notices that he's pretty cute . . . and thus perfect for a spontaneous hookup! Her boyfriend watches with delight as Emma jumps on top of Lucas and shows him the time of his life.
Scene Three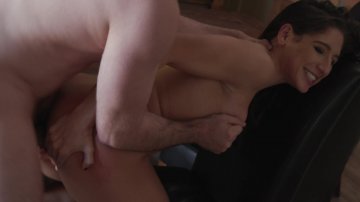 Abella Danger invites a friend over to watch her have sex with her boyfriend (James Deen). It's hard to say what Abella enjoys more: James's dick, or being watched while she's riding it! She is swept away in the thrill of it all to such a degree that her expressions occupy an unusual position between pain and pleasure. (At one point, Danger seems unsure whether she wants to cry or gasp in ecstasy. This scene is further evidence for Danger as one of porn's most watchable and interesting performers!)
Scene Four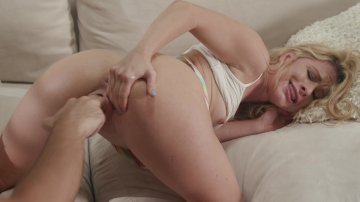 "You said you wanted to get kinkier in bed. Let him stay and watch!" That's what Lilly Ford tells her boyfriend when his roommate walks in on them having sex. The BF is reluctant, but Lily insists . . . and results are maximum pleasure for all involved!