Mia Malkova Plays Marc Dorcel's 'Sex Games'
If sex is a game, then what are the rules?
That's the question Mia Malkova finds herself pondering in Marc Dorcel's Sex Games. She's noticed that her friend Clea has embraced an open, daring sexuality in the wake of a tough breakup. After observing Clea enjoy a shocking threesome in the restroom of a nightclub, Mia asks Clea how she became comfortable with random hookups. Mia herself has never experienced that kind of freewheeling pleasure, preferring instead to enjoy a more subdued variety of passion with her husband, Frank (Ricky Mancini). Clea warns her that Frank was a noted ladies' man before he met Mia and that he might grow bored of the one-woman lifestyle.
Seeing that her friend is concerned, Clea suggests that Mia meet up with Solange, a woman who knows exactly how to help couples in Mia and Frank's situation. Mia thinks it's a type of sex therapy, but Solange tells her that what her company offers is something quite different . . . and much more provocative. "Sexologists will try to bring order into your life. We do the exact opposite. We're going to bring you chaos," she says. "What we offer is a roleplay game for adults, an unimaginable experience." It's the beginning of an incredible sex adventure for Mia and her husband, one that will take them to mysterious hotels, masked sex parties, and more. The backdrop of Paris (and at one point, Venice) provides an additional layer of beauty and intrigue. Will Solange's sex game bring Mia and Frank closer together, or does this particular variety of sexual exploration promise to rip them apart?
The movie is powered by a memorable performance from Mia Malkova, who tosses aside her years of experience as a pornstar to convincingly inhabit a sexually naive ingenue. "What do I think about Mia? Well, she's magnificent. All American girls in general are pretty," said co-star Mancini in a Dorcel behind-the-scenes vid. "Personally, I enjoy gonzo when girls really love sex. Usually when they get here, it's bish-bash-bosh and done – that's what I like. American girls have this sexual thing about  them. When you go there, they give you an American-style blowjob with loads of spit." (In scene four, Mancini gets a particularly vivid demonstration of that BJ technique.)
Malkova's work is complemented by superb supporting turns from Clea Gaultier, Anna Polina (in a saucy hookup with an up-and-coming Czech star), Anny Aurora, and more. Enlivened by a thrilling final sequence featuring luxurious and intense group sex, Sex Games is another sumptuous Dorcel sexploration in the grand tradition of bestsellers like Undercover and Megan Escort Deluxe. Don't miss it!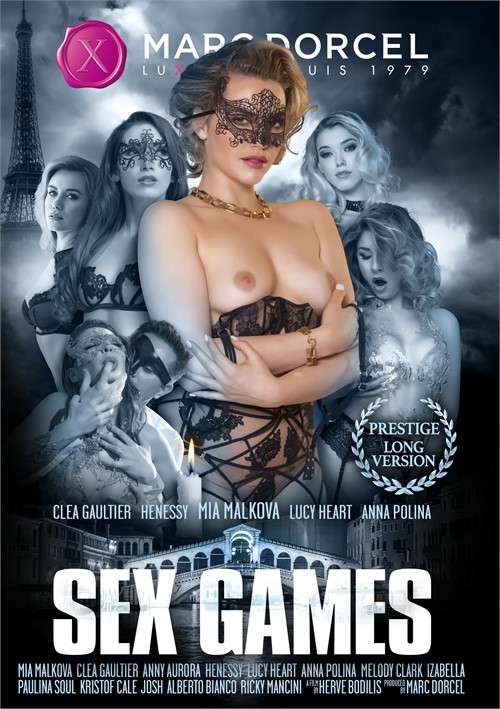 As a bonus, check out this short Dorcel interview with Mia Malkova herself!