Braving the 'Elements': Misha Cross Interview
When pitched against the immutable elements of earth, fire, water, and wind, humankind looks rather small and weak in comparison. After all, how can the ephemeral nature of flesh and carnality stand up to world's basic elements, in all their cyclical eternity? Misha Cross plays upon themes inspired by these ideas in her newest directorial effort, Elements. It's a follow-up to her debut movie, Misha In Exile, and promises to be another artistic, erotic effort from the high-class Evil Angel Films label. It's also a milestone for Misha herself, whose career kicked into gear in 2014 with a collaboration with Kayden Kross. Though currently unable to travel to the United States due to immigration issues, Cross has managed to forge an impressive, award-winning career as writer/actor despite a literal ocean of difficulties. Adult Empire is pleased to introduce Elements as an AE VOD exclusive (through 2/18)! Go inside the making of the movie in this Misha Cross interview, exclusive to the Adult Empire Blog! (And watch for the full Misha interview, covering a range of other topics, coming soon.)
Could you describe the concept of the movie?
Elements is a movie that consists of four scenes, and as I also showed in my previous movie [Misha In Exile], each scene consists of the tease – which is kind of like a music video intro – [and segues] to the hardcore sex scene that happens after. This movie is about elements, so each scene portrays a different element: earth, fire, water, and air. And the purpose of this one was just to show strength and a portrait of women in the most beautiful way.
Where did the idea of the movie come from?
The first idea was to do one of the teases in the desert with smoke bombs. Then I figured out [that] it looks like fire! It gives this kind of vibe to it. It has this feeling to it. So what if we do the elements? So this is fire so we have to do the three more and we just have to figure out how to do it nicely in the most glamorous way. And I obviously chose the models that would be good for it.
What were your goals for the movie, and how did they relate to your previous movie, Misha In Exile?
The clear purpose of that was to be super cinematic, super glamorous – to show what we are capable of doing. Because on the first one, Misha In Exile, we show that we do it in a more cinematic way than normal, but we didn't really shoot anything outside. We had only one piece that was shot outside. I was like, "The way we're going to show people what we do is that we have these amazing outdoor locations. And then we can go big." I'm really, really proud of it! I think it looks really good, so I'm really excited for people to see.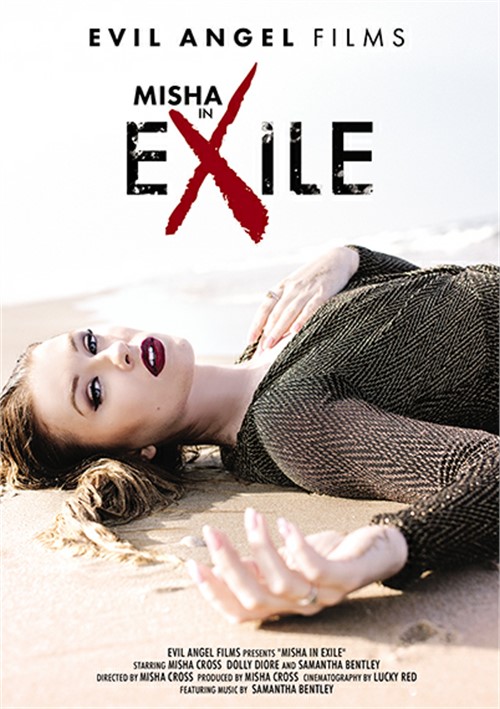 You've said that you want to minimize the "distance between mainstream and porn." How was that exemplified in Elements?
That is the purpose of why we are doing the intros how they look. They're pretty much safe for work/PG-13 because I want to be able to put them everywhere to promote the movie. And I want everybody to be able to look at them and be like, "That is so beautiful! That's not dirty or filthy."
Are there any scenes in the movie that particularly stand out to you?
[The water scene] is the most hardcore [of] all the scenes. All of them are hardcore, but this one . . . Tina Kay is mental. She's an insane performer. I just basically told her, "You can do whatever you want. I just want the scene to be intense, and I want you to have fun and do whatever you want." She gave me such an amazing performance. I was mindblown!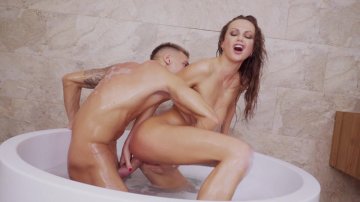 Were there any technical challenges shooting the outdoor scenes?
All of them were challenging just because of the weather conditions. When I arrived to Barcelona [where much of the movie was shot], as soon as we landed, the "hurricane" started! It was just ridiculous. It was raining and thunderstorms. We were just like, "How are we even going to do it?" because all the teases are shot outside. And we need good weather. For [the] desert, we cannot have rain on the desert. We need it to be sunny. So then we got really lucky. For most of the locations we went there and were waiting for the good weather conditions. We were just shooting when there was sun or if there was no rain. But the most challenging was shooting the water sex scene, not the water intro. The water intro was also challenging because of the wind. That was the worst day, I think. But then shooting the sex scene in this bathtub that looks pretty big on a video, but it in fact was tiny. And I didn't know that when I was booking it! Then I came to the location and I'm like, "How am I supposed to fit three people?" Tina is already in it and there's not space for anyone else! But we did it!
Talk about the design of the box cover.
The box cover is something that I designed with my partner. We tell them how we want it to look. We didn't really know what to do with Elements, because we have four girls, and I don't want the box cover to look "porny." I don't want to have dicks everywhere . . . vaginas, sex scene pictures on it. We need to keep it on the same level – clean and simple and more cinematic and mainstream than the regular porn cover. We kind of felt like we just extracted the picture from the video because we never take pictures when we shoot the teases. We only take video. So then we looked at the teases and took picture out of the video and just put them all together. It looked really good! And then I just did it on Photoshop in my computer, and I sent it to Evil and was like, "What do you think?" And they said that it's amazing! And then they did the rest – the "elements" font [and the remaining aspects]. It kind of reminds me of Vanilla Sky!
You dedicate the movie to your mother. Tell us about that!
When they asked me what I wanted to put in the ending credits, I put everyone involved in the making of this movie and obviously the note to my mom. It's to show that I do pretty movies. It's not all nasty, dirty work. Like most of the parents, either they don't want to talk about it, or they don't want to talk to their kids at all. I'm lucky that I haven't been through that drama like some of the girls have been through. I do not necessarily want my mom to watch me being fucked in the ass . . . maybe just watch the teases! If you have a chance, if you see it anywhere. I don't know, because I'm not doing to give her a DVD!
What was it like collaborating with pornstar/composer Samantha Bentley on the music for the movie?
It's hard because it's [based on] intuition. If I felt that the rhythm is not quite good for what I want to show – because music is 50 percent of the whole thing. Fifty percent is the picture and 50 percent is the music. If you put the wrong music to the video, it just ruins it completely. It was very foreign to me and also probably more difficult for her because I am not a musician . . . so I made it probably more difficult for her.