An Interview With Codey Steele
Codey Steele's amiable personality and classic good looks have paved the way to prime roles in everything from family roleplay classics to Dorcel dramas. As he approaches a decade in adult film, we thought it was a perfect time catch up with Steele for a chat about his industry origins, most memorable scenes, fitness routine, and much more.
How did you get into the industry?
I was living in Arizona and working a 9-5 (well it was more like a 6 a.m. -10 p.m., but that's a story for another time) and this job came to a close and I didn't receive the recognition I wanted or advancement. So I thought is this really what I want, to be breaking my back for someone else? So I was picking up hours at my own choosing and writing my own schedule. I saw on Twitter that girls in porn were talking about a company in Arizona. So I found a section for girls to apply to shoot. I obviously sent pictures and told them I was a guy and didn't know how getting into porn works. They said if I got tested and could do the job that I'd be paid back for the test. So I did and I did… the rest is whorestory.
What is your workout routine like? How do you stay fit?
I workout often, most times before scenes. I find it gets the blood going and gets me ready for the action. The rest is all made in the kitchen. I love to cook and have always been more of a healthy eater.
Do you have a favorite type of scene you like to shoot?
This is a hard one. So above all I like passion, whether that's passion in a romantic way, or passion being expressed in BDSM. I think both provide a truly authentic and trusting relationship between performers. I love to let that side show on camera to dispel the myth that "porn sex isn't real." No, it's not the typical or average way of having sex. But to say that one way isn't real just because it's maybe more involved than another is just wrong to me. I love those scenes and the connection I form with my partner in those moments.
Do you have a least favorite type of scene to shoot? Is there anything that sometimes becomes a logistical challenge?
I absolutely hate "free use" scenes. I'm not going to judge what you're into but in my eyes those scenes are borderline non consensual. It really promotes a negative portrayal of sexual connection and I refuse to shoot them(minus a few miscommunications I've had). As far as difficulty logistically, I do love but also appreciate the challenge of a bondage scene. Of course working with the best to do it, John Paul the Pope, definitely helps. But the ropes are sexual in their own way and the art of suspending someone is special.
Do you ever get recognized in public as a male performer?
Yes, I actually get recognized a lot. I have a theory as to why as well. I think it's much easier for a guy to approach another guy and ask, because at worst the outcome will be they both feel awkward and that's all. However, if a guy asks a girl and she's not in porn, there's a much higher chance she'll be offended.
The craziest time being recognized was after a scene, I was standing in a cul-de-sac with two female talent. They asked me the same question and I answered this very same way. Just as I finished, the FedEx truck that was delivering packages turns to exit and the guy rolls down the window and goes "hey are you that guy?" So yah it's definitely NOT uncommon to get a shout out when I'm in public.
You had a scene with Blake Blossom for Wicked's Blast From The Past which came out this year. What was the theme of that project and how was shooting that scene with Blake?
Working with Blake was phenomenal. She brings this energy and attitude that really lets you know you're here to kill the scene. No matter how small the counter or how hard the floor, we have great chemistry. I see that chemistry translated on screen and leads people to really enjoy watching us fuck!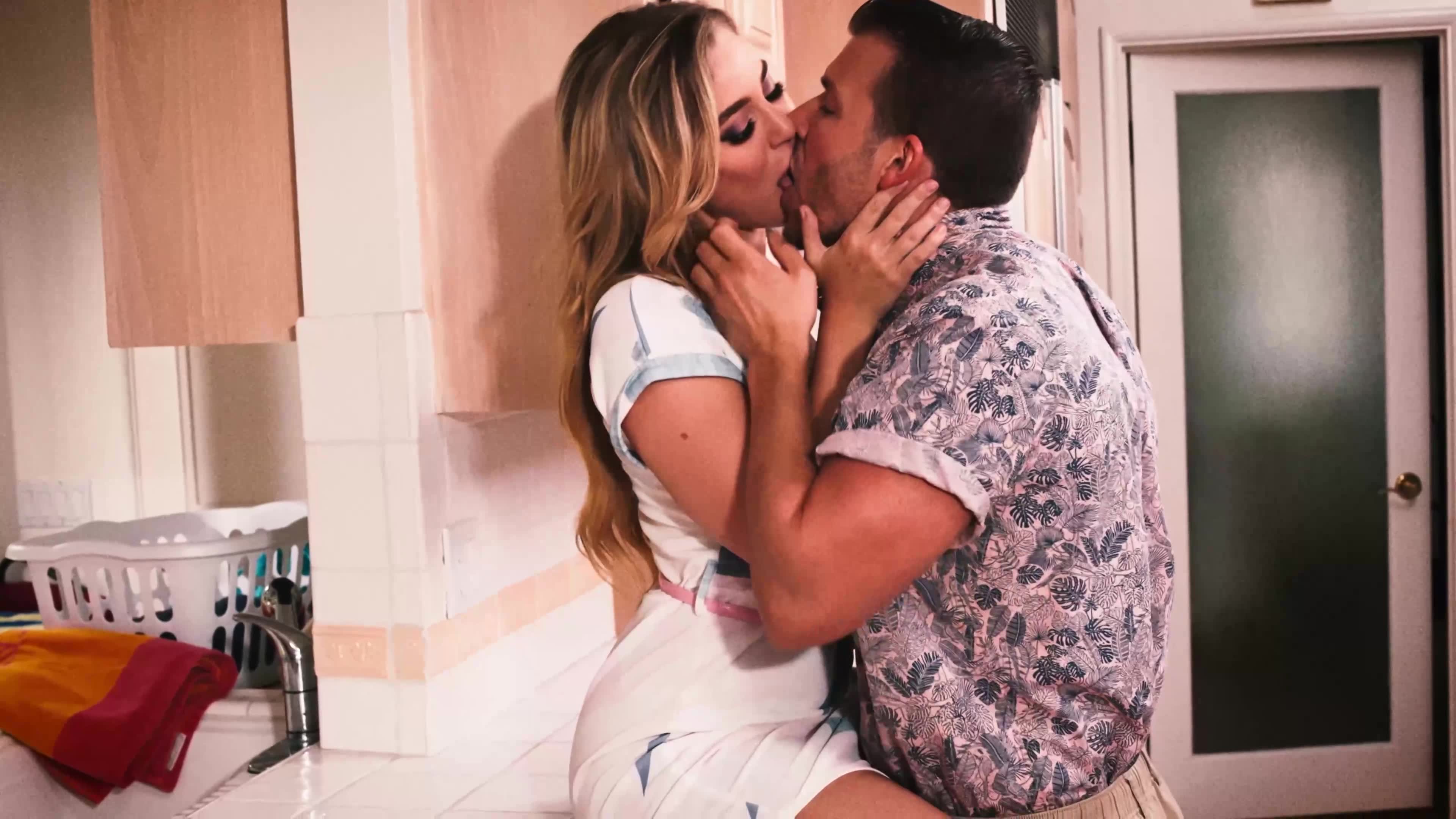 You appear in a lot of "plot-oriented" scenes, which typically add a more detailed narrative for the viewer. Do you have a particular interest in these types of roles or did it just work out that way?
I didn't necessarily aim for those roles when I started. But I did find that when given the chance I took quickly to learning the in's n out's of camerawork. Then the longer days on set put me in the company of actors far more established than myself and it really helped me to learn from them. I've always been much better at running than walking so those early roles really helped me grow. Now I enjoy those roles, but am a little more picky when I choose a project and I'm also very invested in who my fellow performers will be. I do like acting and always appreciate those who push me and give me a challenge, like Seth Gamble. He's given me the chance to grow out of the "step-son" roll and do more than that.
There is a lot of humor and chemistry in your many scenes with Jodi West. How did the two of you develop such a great onscreen rapport? Do you have any favorite Jodi West scenes?
Ohh, the lovely Jodi West. Her laid back energy made the comedy come off effortlessly. We quickly became friends and just naturally played off each other really well. There was always a level to how campy we'd go, 1-10, depending on the day. What came of it were great scenes of two friends just having fun and really matching each others performance energy. That's an old school pull, well done!
You've shot many scenes as stepsons and brothers in family roleplay/fauxcest porn. How do you approach such roles? Why do you think this remains one of porn's most popular categories?
I honestly have no idea why it's still so popular. I wish we could go back to classics like "My Sister's Hot Friend" or "Couples Seduce the Babysitter."      The way I approach those roles is a little more lax than heavy acting roles. It's always a pretty simple troupe to pull off and after a while the dialogue is second nature. I obviously appreciate the work being a stepson has given me, but am much happier moving on from it.
You had a scene come out this year, Let's Hunt An American Cock, from Jerkaoke, with Nicole Doshi. It's a pretty intimate scene with stellar romantic lighting and even a dinner party setting. Talk a little about this scene what it was like working with Nicole.
Nicole is AMAZING. Her sexual energy and passion is crazy. We connected instantly and couldn't keep our hands off each other while they were moving lights to set the scene. We even got a lil frisky and broke a couch before the cameras got rolling… oops! I really love working for Delphine. I happen to shoot with them in their first group of scenes in the US. One thing I love most about this company is that most of their themes are outside the typical. We can really create true passion between two people without needing to be related or corny dialogue. This scene is one great example of that and it shows in Nicole and my performance.
Reagan Foxx told us in an interview last year that she shot her very first porn scene with you. How do you approach a scene when you're working with a first-time performer?
Yah that was a special day, Reagan was and is great! That scene was hilarious too, another Jodi West production. When I get a scene with a first timer, I really try to take care of them. I know it can be a lot to be in front of a camera, then also try to remember lines, all while cultivating sex appeal. I want everyone to have a positive first experience and really try to keep it light and easy that day.
You had a scene from HardX, a threesome with Leana Lovings and Penelope Kay, who are both newer and very exciting, adorable performers. There's a point where one is sitting on your face and the other on your dick, and then they trade places. There are probably at least a million guys out there that wish they could've been in that position. During moments like those, do you ever think, "wow, I'm so lucky, this is so great," or are you just focused on the job?
Ohhh in a spot like that, I'm in heaven. I'm 1000% a pleaser and love to be giving oral AND fucking all at once. Those two were great and even though 2/3 of us are lactose intolerant we ate that ice cream! With girls like those, I don't know how you could be only focused on the job. I'm always present and in that moment, that moment is just the best!
Your four all-time bestselling videos on Adult Empire are all movies directed by Kay Brandt (Unfolding, Climax, 40 Years Old Comes to Life, and The Invitation). How would you describe her style as a director?
Kay Brandt has a vision in her head and truly takes the time to let that develop. It's long days, but the work we all put in really brings it all together on screen. I think the realism of how relatable her characters are really sums up a directing style that allows the actors to be themselves. When you have a director that lets you be you, the character becomes effortless and that really causes viewer to attach well to the movie.
What do you think it is about those four particular movies that makes them so popular with fans?
Those four movies really see continued attention, I feel, because of Kay's style. People really bond with the characters and so they keep coming back to them because they relate so well. Situations may change but the real life plots and characters allow for continued viewership over n over.
What would you like to see more of in the adult industry?
I would love to see adult really just value their own product. I feel like most times we take our cues from a handful of fans yelling the loudest. We don't take risks or make things that we as performers, producers, and directors value. We play it safe n make the same scene over n over because we're always told money us so tight we have no choice but to shoot the safe scene. So I really appreciate when I see people creating something special to them. A real passion project, it's not just passion by the director, but a group effort by all involved to create something out of the love of creating. The type of project that we'd all donate our time just for the experience of making something real. Work doesn't feel like work those days and that camaraderie is everything to me.
What's an upcoming release of yours that you're excited about / fans should be looking forward to?
We just passed awards seasons so a lot of things are already out. But going into awards season I'm most proud of a role I had in the finale of Casey Calvert's series Primary. Also a really raw and hard scene I did with Molly Little for HardX, really shows how i personally like to perform. Molly and I have shot quite a few times so the connection was on point and lead to a sweaty, fast paced, intimate, sex session for the record books.
Codey Steele image courtesy performer's Twitter acccount