Interview: Catching Up With Maitland Ward
For Maitland Ward, the story just keeps getting Deeper.
It was sensational news when the Boy Meets World star shot her first hardcore porn scenes in 2019, but that was only the beginning. When she signed on as a contract star with Kayden Kross's Deeper, porn fans were treated to one of the most scintillating collaborations in modern porn. Ward recently announced she has extended her Deeper contract through 2025. In this new interview, she covers the behind-the-scenes story of the new deal, her working relationship with Kross, and much more.
Was there any hesitation on your part when it came time to extend your Deeper contract?
Kayden and I had been talking well before my contract was up about where I wanted to take the next chapter in my adult career and beyond. The focus was to not only do scenes and projects that focused on acting but to also broaden my scope as a writer and now director. She was instrumental in drafting a deal with Vixen that gave me everything I wanted for the next two years. She told me when I first signed that they were there for me as long as I wanted and this contract lives up to that promise and beyond. It's so rare to find a collaborative partnership and friendship like the one I share with Kayden, and I couldn't imagine sharing my journey or any of my future journeys without her. So, no, there was no hesitation. Only excitement for what the future holds.
What is the project, movie, or scene you think best represents your overall collaboration with Deeper?
I think Muse 1 especially really encompassed what Kayden and I can do together. We were up against the pandemic and wanted to make a film that really stood apart, not just in the adult space but in the space of art and Hollywood entertainment. We were the first to really launch a series of that scope, and under all the COVID constrictions, and I think with the project we were able to showcase beautiful cinema, a deep story and varied characters along with hot sex.
But I think my favorite was "Higher Power" from the Mistress Maitland series. The monologue Kayden wrote for me was unmatched. It's s scene where I find my mark entering his sex addicts meeting and follow him inside to corrupt him. I was really able to show my acting chops and make something people remembered. We also completely broke a metal folding chair in half in the middle of the sex, so I think that speaks for itself.
Kayden Kross's work shows what a sharply perceptive person she is. In your long collaboration with her, what are some of her most memorable insights and observations? (Be it about filmmaking, actors, life, anything.)
Kayden is one of the smartest people I know. Her insights, especially when it comes to writing and direction and filmmaking as whole are so astute. She looks at cinema in new and exciting ways that haven't been done before and I know that's why audiences and critics flock to her work. But she's smart in so many other areas too. I get the most out of our long talks and adventures, whether it be taking permaculture classes or going to Broadway shows and science museums in New York. I think the depth of what she creates comes from her interest in everything she comes across. She questions things and observes and that's adds so much depth to filmmaking.
Which Deeper script presented the most challenging character to play?
I'd say Muse 2 because of the heavy emotions my character was going through. She would swing from being this powerful, in command woman to being tearful and broken quickly. I loved how raw everything was for her in that film. Because of the circumstances in the film, she no longer had a grasp on her life or her future and it was breaking her. And she was still questioning herself as to whether she was deserving of love or if she'd ever get it. She wanted that all powerful love but realized that's also a thing that can shatter you. But in the end she still found her strength.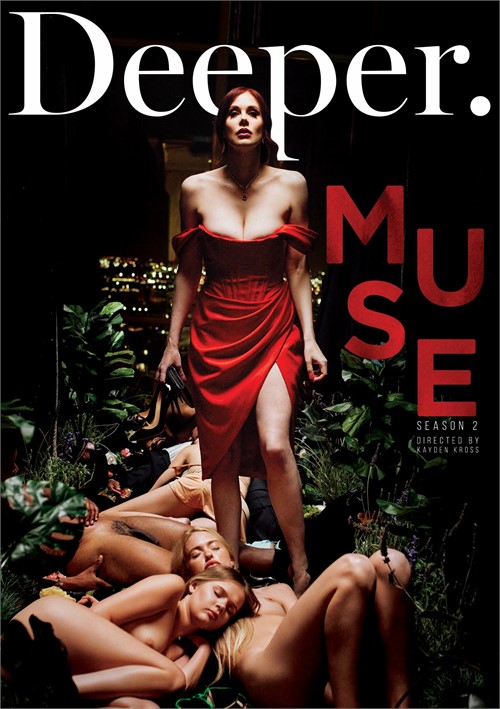 Have you and Kross ever had a significant creative disagreement? If so, how did you resolve it?
We've been really lucky creatively that we've always landed on the same page. I feel like we start with a block of ice and each chisel our own details into until we have a sculpture. I honestly can't think of something creative that we've had any big disagreement on. Although I think a little pushback from both sides is really good for the creative process.
Could you envision a role reversal in which you are the director and Kross steps in front of the camera as star? What would such a theoretical scene look like?
Yes! I would love it. How fun would it be to sit in the director's chair while she acts. She's really a fantastic actress. I'm not sure yet what the script would be but I'd like to challenge her. It may even be fun to do something light and fun. She's funny too. I'm going to work on this!
Last year, you mentioned there was a possibility your autobiographical book might be optioned as a movie (or TV show). Have there been any new developments on that front?
Yes, absolutely! I'm working on that as we speak, although the Hollywood Writer's Strike has put a lot on hold for the next couple of months. I'm looking forward to the successful end of the strike and to going forward from there. I have my entire team in place from my agency, lawyers and co-collaborators to have everything packaged in manner that will be successful later this summer.
What are the main differences on set when it comes to shooting a porn scene vs. main stream movie/show.
There's no studio audience like on Boy Meets World! But really, especially on my Vixen/Deeper sets, there really isn't much difference at all. We may have less crew, although I've been on independent films that have less. The main difference is the length of time we have to shoot a project. On a big movie you have months to shoot. Here we shoot a feature in 8-12 days. And the days are much longer since we are condensed with time. But with the brilliant scripts I've gotten to act out from Kayden and the imaginative team at Vixen, it's been a lot better that most Hollywood productions.
Is there anyone in the industry you consider a mentor?
Definitely Kayden. I've learned so much from her and with her. We're always bouncing ideas off of each other and spending time talking about whatever interests us. That's the joy of our collaboration and friendship.
I also have to say that when I first started out doing content on my platforms, before I did it professionally, I was so lucky to have worked with Isiah Maxwell and Danny Mountain. They really showed me the ropes. I learned so much about shooting porn before I stepped foot on that first Blacked set, that I was ready to really give it my all.
What advice would you give something looking to join the industry?
I came into it in a very different way, so I can't speak to everyone on this. I will say that what was instrumental for me to make the leap was really building my social media base, and then more importantly my platforms. I would encourage any new performer to really work on building their fan base and their OnlyFans to show studios what you can bring to the table. Then you'll move up the ladder and get bigger opportunities which only feeds into your OnlyFans and social media. A good agency is really helpful starting out too. But I am lucky that I didnt need to go that route to find the success I had very quickly.
Do you have any plans to write another book?
Yes, I'm working on it right now! I'm really excited to be writing something new. I find it's more challenging though, since before I was telling a life story of mine that I knew. This one will have my voice of course, but this is something that will be in an entirely new direction. I am very excited to work on and release my second book coming up next year.
What do you hope to achieve in the coming year?
While I'm excited about everything I talked about here, I don't like to make too many plans. I feel the best things in career and in life come to you. I like to run with life's surprises.
Don't miss Maitland Ward's previous Adult Empire interviews:
Maitland Ward Video Interview: 'Boy Meets World,' 'Drive' & More