AE Pulse: Leana Lovings Almost Takes #1 Pornstar
Adult Empire's update lets you put your finger on the pulse of what's going on at AE! Get the lowdown on the most popular movies and stars on Adult Empire last week with our top-spot rankings and content that is new and notable on DVD, VOD, and on AE Unlimited. Also catch up with this week's studio spotlight and a preview of some of this week's highlights.
What's Hot: Pulse Rankings
It was only last week when we were celebrating Angela White for her long lasting streak at number one pornstar, now she is at the sixty-second straight week at number one.  This week the headline goes to the popular newcomer Leana Lovings who actually hit the number one pornstar spot for three days of the past week and just missed taking the number one spot from Angela by a cunt hair.  She came in at number two this week missing getting a tie with Angela by just one vote.  The vote tallies are determined by the customers combination of views to products, streaming and DVD sales.  Leana Lovings has the perfect combination of youthful innocence with that naughty combination of sexual curiosity and desire.  She plays the part extremely well whether she is doing family roleplay or going hardcore.  She often wears glasses that adds a whole different level of fetish to her act.  She is cute, sexy, and always horny – a triple turn on.  She is busy this year turning up in multiple new releases, her MyPervyFamily scene But I Have a Girlfriend Now was recently our number one VOD for four weeks straight, and it was only a scene!  She was also featured in our AE Exclusive VOD called My Sexy Little Step Sister 13 by Digital Sin for the past week.  I am sure that release along with her scene from Jays POV called Leana Lovings Wants Her Medicine From Stepdaddy or Leana Lovings in Free Use Step Daughter Vol. 3 – Accidental Creampie from Taboo Heat helped push her up the charts.  MyPervyFamily capitalized on Father's Day to release a new scene with Leana called UnWrap Me Step-Daddy is bound to climb the charts too.  I love the sexy negligee she wears in this scene with Danny Stewart.  She also stars in the movie I will be reviewing on Friday called Fixing For A Fuck 9, she is everywhere and for good reason!  It is only June but I am making a personal prediction that she will be a definite contender for AE's 2022 Pornstar on the Year.  For now we are just going to watch and see how much pressure she is going to put on Angela White, can she disrupt her streak at number one?
Now for the rest of the ranks:  In the DVD sector getting a second week at number one is Seduction Vol. 2 from 2012.  Rising in the ranks to number two DVD is Poetics for Tramps and Blacked Raw V52 is also working it's way up the top five to battle the other bestselling DVD's from past years in the top five.  There was some movement in the VOD sector this week as Poetics for Tramps dropped from number one to number four as DORCEL moved in to take number one with Revenge and number two with A Lovely AuPair.  At number three is My Curvy Hotwife featuring Ashlyn Peaks and closing out the group at number five is Leana Lovings with her JaysPOV clip mentioned earlier.  For AE Unlimited Pervert Couples and Their Friends takes number one as the new titles keep getting added daily as we have surpassed over 125,000 movies and over 500,000 scenes on AE Unlimited making it one of the best inclusive porn movie membership available.  It's starting to get hot for the summer and I am not talking about the heat, I am talking about the sexy new releases hitting the market now on DVD, VOD or Unlimited.  What are YOU going to watch?
What's Hot: Studio Spotlight

This new studio called NXT LEVL was added on AE Unlimited earlier this year, created by Francesca Le and Mark Wood. This studio provides hot content in full length movies with popular teen stars.  Spotlight movie:  Taste Like Cum 2 is a Compilation film with a full cast of stars who give and take the ultimate cum shot taste test.  Tons of scenes and stars in this 2 hour and 44 minute full length film.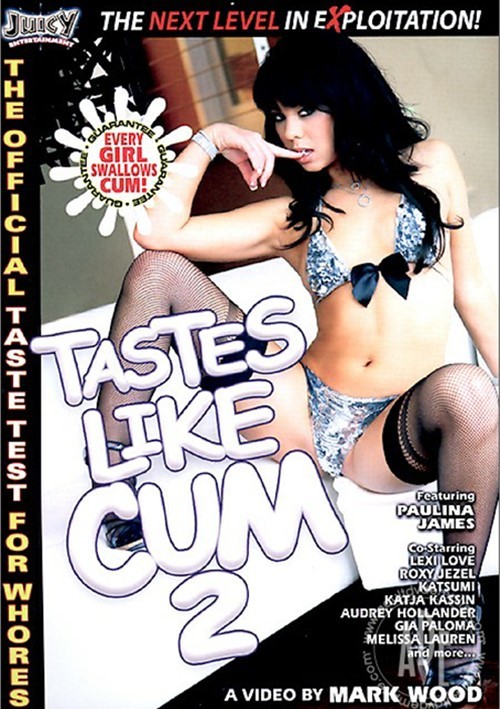 View more NXT LEVL Studios Videos >>
What's New on DVD/VOD & AE Unlimited:
What's in the Archives:
Check out some of these newly added classics and compilations! Think of it like a trove of long-lost goodies you find in the attic, closet, or basement!
What's Notable on AE:
Here is a preview of what is to come this week on Adult Empire and our notable star of the week!
More AE Pulse:
This week last year: Marc Dorcel's 'Sex Games' Returns to #1 VOD