Jessica Sage Interview: 'Your Internet Girlfriend' Revealed
In the long and crazy that was 2020, many people found themselves cooped up and craving intimacy. It was during these moments that some turned to the reassuring embrace of adult entertainment, which provided moments of solace and pleasure during a dark time. Jessica Sage's Your Internet Girlfriend brand is expertly designed to provide a sense of intimacy and connection in a video format. We chatted with this up-and-coming entrepreneur and star about her background, brands, upcoming plans, and more.
Where did you grow up? What was your first job?
I grew up in New York, about 30mins north of NYC. The first job I ever had was as a lifeguard at a water park.
When did you decide to join the adult industry?
I decided to join the industry about three years ago. My husband and I were struggling financially and I was having a really hard time finding a job outside of the home, so I started looking into at home jobs and one day my husband suggested I look into camming. From there I decided to give it a try and I quickly realized the adult industry was where I wanted to be and I just immersed myself in it.
Tell us about your first camming appearance? Where you nervous?
I was so nervous my first night camming! I had watched other shows and learned as much as I could, but nothing can really prepare you for actually going live. I wasn't sure what to expect, would people like me, would I be any good? I figured I'd just be me and I would see where it would lead me. Everyone was so nice and welcoming and I ended up having a really great first show.
What's the key to conveying girlfriend-style intimacy and connection in a cam format?
I think just being there for people is the biggest thing. A lot of people are lonely or are looking for some sort of connection. I really try to get to know my fans and I'm an open book as well. I enjoy building those connections and making myself more relatable, more human I guess, and less of just a sexual object. I'm quirky and fun, yet can be sexy and sensual as well.
Have you had any odd run-ins with fans in person or on cam?
I haven't had any type of run-ins with anyone in person and as much as I am really open, I think that would freak me out a bit. As far as on cam, I've certainly had my fair share of odd requests, both live and during private sessions.
You've posted a few tweets about your cat. Do you have any other pets?
Yes! I have my cat Alan, whose about 3 years old now, and I also have a ball python named Gidget. I've always loved snakes and my husband surprised me with him for my birthday 5 years ago.
What advice would you give people looking to get in to the industry?
First and foremost I think it's super important to know what you're getting yourself into before joining this industry. There is a lot of stigma surrounding the adult industry and with the internet, once it's out there that's it. Also, do your research, figure out what aspect of the industry is right for you (camming, pro-porn, amateur porn, solo, etc) and then just go for it! But understand that it is a job, no matter which route you go, and despite what people believe, it's a lot of hard work.
Of the Your Internet Girlfriend vids available on Adult Empire, which one do you regard as the best starting point for new viewers?
I actually make two different types of girlfriend experience videos and so I think this depends on what someone is looking for. I have really interactive ones where I'm talking to you (the viewer) and I leave the dialogue open so the viewer can fill it in however they choose. I also have film some in mobile view as your girlfriend sending you this naughty video. But if I had to pick, I would go with Morning BJ Leads to Facetiming at Work because it shows a little bit of both types of videos. The first half is filmed as the viewers POV and the second half is like a video chat between us.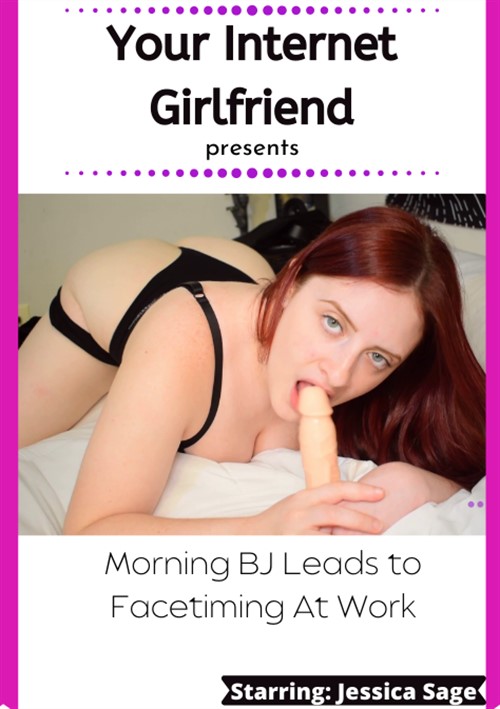 What's an awesome tip or trick about shooting solo content that you wish you'd known from the beginning?
Get yourself some type of gimbal! I just got one several months ago that hooks up to my phone and has a tracking feature. I definitely helps make life a whole lot easier, especially when you are filming by yourself.
Do you want to work with other performers or will you continue to star solo in your scenes?
I definitely plan to work with other people. I'm hoping once this pandemic starts to die down or get more under control I can start filming some girl/girl content. Eventually I'd love to do some professional scenes, but truthfully it's difficult because of  my body type.
What's the biggest misconception people have about your profession?
I think one of the biggest misconceptions is that it's not a 'real' job and is easy money. I don't think people have any idea how much work actually goes into this, especially someone like myself who has to do and manage everything on my own. That includes filming, set-up, social media, marketing, editing, this list goes on. You have to put in a lot of hours and learn so many different skills in order to be successful. It's not just take some nudes, upload some videos and the money starts rolling in.
Who do you look up to in the industry?
There are so many amazing people that I look up to in this industry! Amberly Rothfield is someone I look up to because of her diverse knowledge and she has taught me so much about the business side of things. I also really look up to Reya Sunshine because she started out as a solo cam girl and content creator and now has built this amazing brand for herself. I hope one day I get the pleasure of filming with her!
What's your favorite sex toy?
I have this clit sucking vibrator that I absolutely love! The best part is that it heats up, too.
What's the one thing you most wish you could change about the adult industry?
If I could change anything, I think it would be the stigma that comes with it. Porn is not wrong, it's not dirty, and yes we actually enjoy what we do! We're not all bimbos who couldn't do anything else, many of us are educated, have families, and chose to do this because we want to!
What's a book, movie, TV show, or song you've been loving lately?
I'm definitely a book person! Right now I'm reading a book called Rage by T.M Frazier and so far I'm loving it. I really enjoy strong, badass, female characters.
Tell your fans why it's so important to pay for their porn.
If no one in the world ever paid for porn, then it wouldn't exist. When you pay for porn you help support us so that we can continue to create it, whether it's a performer or a studio. This is especially true for small creators like myself who don't work for some big name studio. You help support me directly and allow me to continue doing what I love.