Sex Toy Review: Alexis Amore Pornstar Stroker
Editor's note: The following post was written by Adult Empire reviewer Domineera.
I have been really loving the Pornstar Signature Series. They have been pushing out quality strokers and this one is definitely the best one yet!
This is my first stroker that has a piercing on it. I'm talking about a quality looking clit piercing. It's unreal! I loved touching it and playing with it. The Stroker is a lot to handle at first but let's break it down simply.
The big tin can it comes in is nice but I wouldn't go putting it on display. You can peel off the Alexis sticker but it says Pornstar really hulking big on it so I have to turn it around. The colors on the can itself are nice, though. My advice? Keep it in the mesh bag it comes in and stash it in a drawer.
The warming wand is like the holy grail to every single toy no matter what. You NEED this. It will maximize your experience completely. You will go from a cold lifeless hole to a warm extremely realistic warm hole in a matter of about 5 minutes. I just leave the wand in it while it warms it up then pull it out when its ready.
The case sleeve is not huge like other strokers. It's very comfortable to hold. The top of the case has a phone holder so you can watch porn while you play. The one thing I also love is just with a click of a button on the bottom of the stroker you can let air out or make it air tight for a tighter stroke. It's so easy to use its unbelievable.
The skin of the stroker feels fantastic. It's high quality and very comparable to my favorite high end stroker. It has nice textures inside that is thrilling. It doesn't get boring at all. This is one of the more realistic strokers and its just a must have. It's in my top three faves with Tenga, Fleshlight and Pornstar being the third in that order. They're very close so I mean you should just try all three if you're a toy fanatic.
There's really nothing bad I can say about it except that obnoxious large tin that I could just DIY use it for something else. Oh yeah, and you get a free 30 day membership to some porn so that's a big plus but we all know free porn is everywhere these days. If you decide to get this toy I think you will really enjoy it for sure!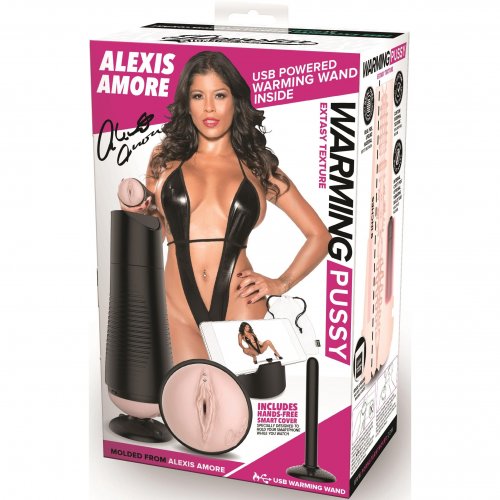 Browse the full line of Pornstar Strokers (on sale now at 30% off) here.
Check out additional reviews of other items in the Pornstar Stroker line in this archival post: