'Interracial Icon Vol. 10' Debuts on VOD
"Interracial Icon Vol. 6 Rules Again"
"Interracial Icon Vol. 5 Gets Five Stars"
"Interracial Icon Vol. 3 Keeps On Rolling"
These are just a few of the past Adult Empire Blog headlines touting the brilliance and success of Blacked's popular Interracial Icon series. Every single installment of the first 10 parts of the series has advanced to a number one ranking on Adult Empire's bestseller charts. The success of the latest edition in the series is as predictable and expected as that of the latest Marvel Universe movie! Part 10 debuted on DVD in January and lodged itself in the number one DVD bestseller spot for an impressive four weeks. It's now on VOD for instant streaming . . . exclusively at Adult Empire (through March 22)! Check out a scene-by-scene breakdown:
Scene One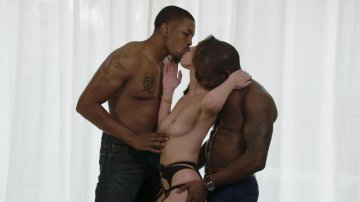 Jade Nile's character acknowledges in her opening narration that she is spoiled rotten. What she wants, she gets, as evidenced by the pile of bags filled with designer goods that she carries into her home. When she sets her gaze on her sexy, well-endowed neighbor (and friend), there's no stopping her! After a threesome that finds her taking on two dicks and getting creampied, Jade smiles and — without missing a beat — says, "Round two?" Now that's the true Interracial Icon spirit!
BUY THIS SCENE
only $6.99
Scene Two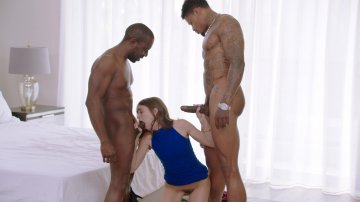 Riley Reid plays an event organizer who isn't above using her job to facilitate the occasional hookup. In this case, she is charmed by Will (Jason Luv), a performer whose busy schedule is open just enough to allow Reid to sidle into his bedroom. When Jason's manager (Joss) interrupts the hookup to inform him that he needs to prepare for an upcoming performance in Paris, Will brushes him off and suggests that the manager join in on the fun. Who could say no to that? There are few performers who attack double the dick with as much enthusiasm as Reid, particularly when she is alternately stroking and sucking them as they lie back on the bed side by side.
Scene Three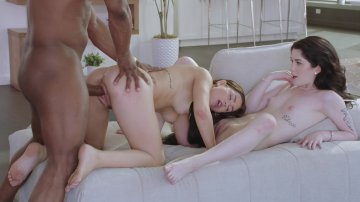 The erotic way Alina Lopez cradles and caresses a champagne bottle in the opener of the scene is so suggestive it almost makes the rest of the sequence redundant. (Almost.) Scene three follows in the pattern of scene two by starting out as a one-on-one coupling before opening up into a threesome as the action progresses. The twist this time is that it's a second woman (Evelyn Claire) instead of a second man, as in scene two.
Scene Four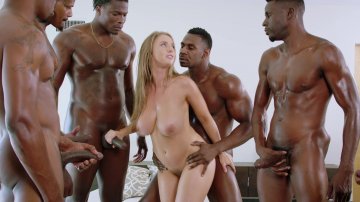 Lena Paul plays a real estate agent whose plunging neckline will have you ponying up "cash to close" all over her amazing chest. Her latest client (Jason Luv), with whom she's been having ridiculously hot sex in every room of his newly acquired house, has a new proposal for her: "Tomorrow you're going to be a good little slut for Daddy. You're going to fuck my friends. All of them." Lena recoils slightly from this idea, but once Jason's crew is in front of her, she soon warms up. In a movie filled with memorable moments, this seven-on-one group sex extravaganza is still undoubtedly the overall highlight.
BUY THIS SCENE
only $6.99