Three's Company: 'The Three of Us 10' Debuts (VOD Exclusive)
The Three of Us, Porn Pros' threesome-themed series, kicked off in 2015 and has now swelled to 10 installments! With four scenes per movie and three sexually adventurous participants per scene, that adds up to quite a crowd of people getting their group-sex groove on. Number 10 is available on Adult Empire as a VOD exclusive (through 2/11/19)! Check out a scene-by-scene breakdown:
Scene One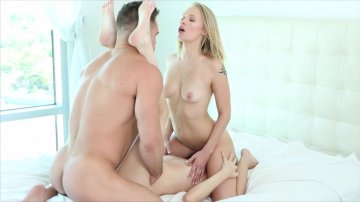 Imagine you're naked, blindfolded, and being led by the hand by a beautiful woman. Where would you hope to be taken? What would you hope would be waiting behind the bedroom door? The lucky star of scene one finds himself in exactly that scenario, as Dakota James leads him into the waiting arms of Hannah Hartman. James, the Alaskan native who starred in numerous movies for Blacked and Jules Jordan Video, has since receded from active performing, so the scene spotlights a welcome slice of newly released action from her.
BUY THIS SCENE
only $5.99
Scene Two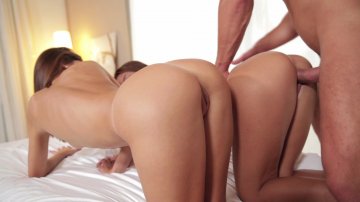 Carol Vega and Alexis Brill are relaxing by the pool, oiling each other down and soaking up some sun. A studly biker is about to alter their day's plans, though, when he shows up to doff his helmet (and everything else) and demonstrate that a threesome is the ultimate leisure activity for a lazy day! The scene features numerous erotic moments in which either Vega or Brill watch in anticipation as the other receives a hard pounding. Lust fills their eyes as they imagine the intense pleasure they'll feel when they receive the same treatment.
Scene Three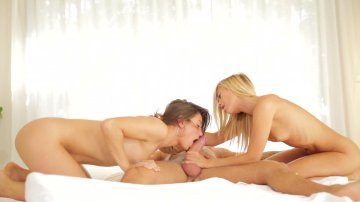 Sure, the scene begins with Julia Roca pulling back the parking brake on her SUV as she leans over to kiss Lola Reve, but the spirit of sexual adventure they embody corresponds more closely to a gas pedal pressed straight to the floor. Julia and Lola make out before awakening a slumbering stud with the best thing imaginable to rouse a person from a long rest: an energetic threesome!
Scene Four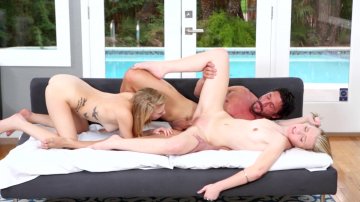 As the scene begins, Cassidy Ryan drops a large, almost snakelike dildo onto the bed in front of Moriah Tyler as if to say, "Things are about to get kinky!" Cassidy and Ryan spend a long time teasing one another and exploring each other's bodies, first with oral and then with a lengthy scissoring sequence (captured in an explicit closeup). But the party's just getting started! Tommy Gunn shows up to take things to another level, using the dildo to maximum effectiveness before pounding both Cassidy and Moriah. Vivid closeups throughout the scene gives an ultra-intimate viewpoint of every lustful moment.
BUY THIS SCENE
only $5.99