Keeping It 'All In The Family' (VOD Exclusive)
Blood is thicker than water. And in this particular series of families, passion pumps through veins at a speed that is likely to make your head spin. All In The Family, a new family roleplay exploration from Karups, makes its debut on Adult Empire as a VOD exclusive (through 1/23/19)!
Scene One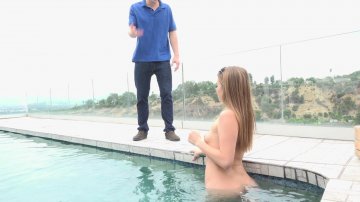 "i didn't know my stepbrother had such a nice cock!" Jill Kassidy is topless by the pool, busily taking selfies. Her embarrassed stepbrother arrives behind her, looking for his dad but getting an eyeful of Jill instead. When she notices him looming behind her, she initially covers up, but when he fails to make himself scarce, she frolics in the pool for him a bit before coaxing him into a naughty hookup at the edge of the water (and the edge of taboo).
Scene Two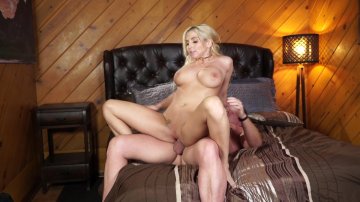 Eric Masterson drops by visit his brother and sister-in-law (Christie Stevens). She shows him to his room and allows him to catch up on his napping before waltzing in totally nude for a surprise visit. Stevens says she knows Eric has fantasized about fucking her, a charge he can't deny. She gives him an opportunity to act out this dream while his oblivious brother is away.
Scene Three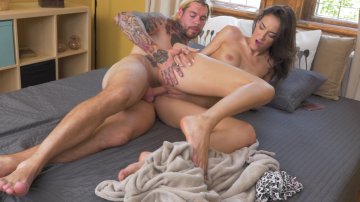 Miky Love enjoys masturbating while fantasizing about her stepfather. Unfortunately, she didn't remember to lock the door before starting, so she's startled to open her eyes and found stepfather right in front of her. Clad only in a towel that barely conceals his bulging erection, the stepfather says he doesn't mind at all that she thinks about him at such intimate moments. In fact, he has even better idea for how she express those desires . . .
Scene Four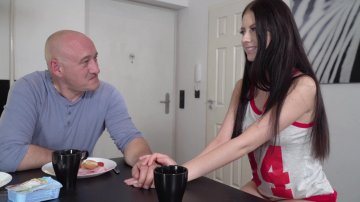 Rebecca Volpetti starts out by sharing some breakfast with her stepdad . . . and ends up sharing a lot more than ham and a few eggs. Perched on a chair so loud and squeaky that it makes almost all of the early dialogue irrelevant, flirty young Rebecca makes bedroom eyes at her stepfather until he can no longer resist acting on his dirtiest taboo desires.