Sex Toy Review Roundup: Magic Wand Special Edition
In this special edition of the Review Roundup, it's all Magic Wand, all the time! The world's most famous sex toy (also sometimes referred to as the "Hitachi") is marking 50 years and we're celebrating the milestone in grand style. Learn everything you could possibly want to know about this essential plaything! First up, Chelsea gives you a history and review of the toy in a new edition of Turning It On With Adult Empire.
IN-HOUSE REVIEWS
Chelsea's not the only one who has checked out the Magic Wand on our behalf. Check out these other in-house reviews penned by AE's sex toy evaluators new and old.
Domineera (2017)
"I have heard about this from a friend and so I was already excited for it. She ranted and raved about it. This is the first time I have seen a toy or personal massager if you will with a cord and plug attached right to it. That is so awesome because the whole toys coming without batteries thing is so tiring! I want that power and I want it right away which is what you get here." Read more >>
QueenB (2004)
"Got a sore back? Like to ease that knot in your neck? How about that certain itch in your nether regions? If you answered yes to any of these questions then the Hitachi Magic Wand is for you. Being born just a bit too late to enjoy the original Magic Wand craze, I was tingling with anticipation over the prospect of grabbing one of Vibratex's reconstituted Magic Wands and taking a ride…And woah, what a ride it was." Read more >>
Becky and Chelsea look the original and rechargeable versions of the Wand in a vlog from 2015. Watch it here.
CUSTOMER REVIEWS
It's a testament to the Wand's quality that it has received no reviews of fewer than four stars from AE customers. Men and women both offer their opinions on the toy.
From from the ladies:
"Excellent product. Durable and well made. Handle is long so it can reach anywhere."
"My husband got this for me as a Christmas gift. It is amazing. I squirted like never before. It gave me the most powerful orgasms in minutes!"
From the gents (yes, the Magic Wand is a guy's toy, too!):
"I am a guy and have been using the wand for about six months now. I'm telling all guys out there that you need to try this thing. You won't believe the orgasms that the wand will give you! All you do is place this sucker on your cock where the shaft meets the head and lie back."
"I love my Magic Wand, and have been using it on a daily basis for about three years. Most vibrators don't work well for men, but this does great for me."
MOVIES
The Magic Wand cameos in many porn movies. In addition to being an amazing sex toy, the Wand creates some very striking visuals. Due to the toy's large size and the petite proportions of most pornstars, the Wand generally look absolutely enormous in relation to the stars' bodies! Here is just a small selection of scenes that incorporate the famous Hitachi!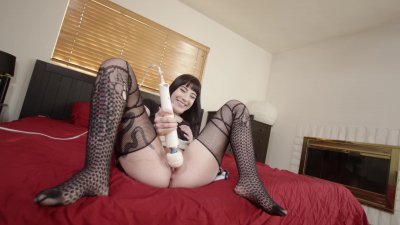 As Bill Bailey watches from around the corner, Charlotte Sartre masturbates and then squirts using the Wand.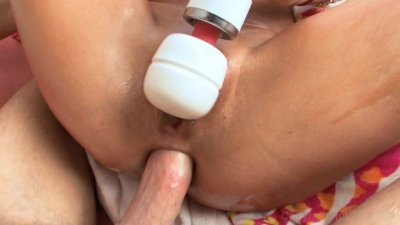 Alanah Rae finds that a Magic Wand on her clit is the perfect complement to anal sex with Mike Adriano.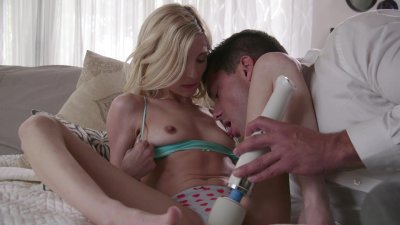 The Wand plays a pivotal role in the "plot" of this scene when Ramon Nomar accidentally finds the toy in Piper Perri's bag. (Read more here)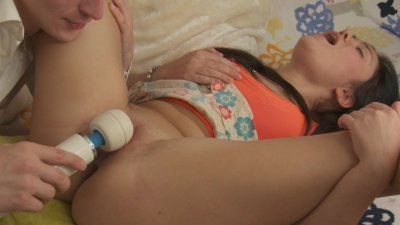 Karla Lane once said the key to dating success was having a Magic Wand in your back pocket, at the ready. Judging the the reaction of the brunette beauty in this scene, Karla may have been onto something!
Visit our website for an awesome Q&A with the Wand's current makers, Vibratex.