Taboo Heat Keeps Things Hot on VOD
Certain things are taboo, and that's exactly the reason some people can't resist doing them! There's a thrill to violating norms and shocking both yourself and the people around you. Taboo Heat takes those moments and dramatizes them into a series of fantasy scenarios. The studio's distinctive brand of family roleplay, MILF, and fetish content is now available on Adult Empire VOD!
Taboo Heat is the playground for the Florida-based husband-and-wife duo Cory Chase and Luke Longly. Chase is probably best known to general audiences as the star who appeared in Ted Cruz's "accidentally" liked tweet last fall. The ensuing controversy brought her into the limelight, but discerning porn fans have recognized her as a go-to MILF ever since she first dabbled in porn in 2009. Longly, meanwhile, directs and takes on the majority of the co-starring roles in the movies (sometimes as an unseen POV cameraman, such as in certain scenes from the MILF-and-stepson movie Mom Teaches Me About Sex).
Family roleplay is a common theme in modern porn storylines, but Taboo Heats gives the genre an even harder edge. The punchy action in Daisy Lynne in Daddy's Sweetheart provides some typical examples.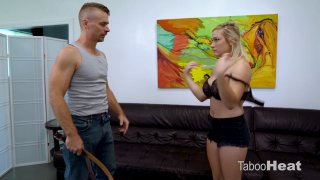 In scene one, the stepfather character (Longly) sneaks into his daughter's bedroom while she's asleep. His nimble fingers slip around the pink stuffed pony she's holding as he begins to fondle and undress her. He strips her down, has sex with her, and then bids her to remain quiet about the whole illicit affair. Scene two finds the same drunken stepdad punishing his daughter for being late. Such disregard for rules means that she'll have to submit to his sexual desires!
The third scene opens with the stepdad scolding his daughter for talking with boys. He brings her into the living room, throws her off her feet with a violent slap to the face, paddles her with his belt, and finally coaxes her into a blowjob and some doggie-style sex. The final sequence ups the ante even further, opening with a shot of the hapless daughter being dragged by her ears and pigtails into the bed. It seems she's still been talking to boys, and Dad is not happy. A hardcore pounding may be the only way to keep her in line! Taboo Heat definitely plays the theme of consent right up to the edge, but it also operates in a stylized way that always reminds you that it's simply a fantasy. Most Taboo scenes feature family roleplay situations, but the company also incorporates themes such as amorous widows (Gambler's Wife), office liaisons (In the Office), and even surprising references to the #MeToo anti-harassment movement (Mom Teaches Me About Sex). All Taboo Heat videos are available in HD!
Browse Taboo Heat porn videos here.