Marc Dorcel Hires 'Tiffany, Sexy Secretary' (VOD Exclusive)
Secretaries Day, held each year in April, is now generally referred to as Administrative Professionals Day, an understandable concession to political correctness and changing terminology. There's even a movement to abolish the day completely! We won't wade into those murky political waters, but we certainly are glad that porn is still willing to celebrate the porn trope of the hot assistant. The latest entry in the genre, Marc Dorcel's Tiffany, Sexy Secretary, is available exclusively on Adult Empire VOD through February 28!
Dorcel's movie boasts its own refreshing spin on the scenario. Most porn movies centering on the "sexy secretary" theme play it light. Think of Smash's Secretary's Day series, which accents the humor and absurdity of office situations. Dorcel's Secretary is a more in the thriller vein, with blackmail, intrigue, betrayals, and scandal. In other words, all the ingredients of another Dorcel classic! (The English version also manages to have a fully developed plotline without making use of a single line of spoken dialogue, lending the movie a surreal feel.) Check out a scene-by-scene breakdown here:
Scene One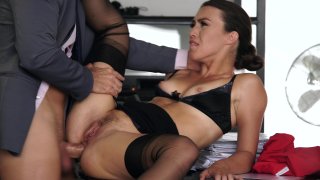 After arriving for another day at her job as an administration assistant, Tiffany (Tiffany Doll) is wordlessly seduced by a boss at work, enjoying an anal tryst on an office desk.
Scene Two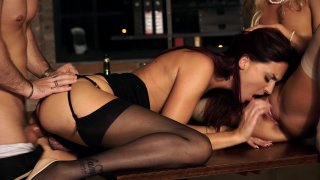 Tiffany glimpses a boy/girl/girl threesome through the crack in a door left ajar. (The scene's ending features some naughty use of champagne glasses, which become a receptacle for something more than just a little bit of Moët.)
Scene Three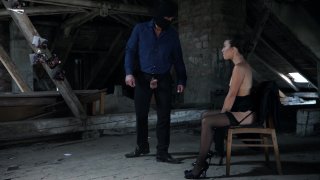 Tiffany is blackmailed into sex by a masked man in a scene with some BDSM overtones.
Scene Four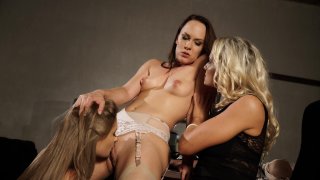 With the pop of a champagne cork, an office gossip session turns into a wild lesbian threeway featuring strap-on action!
Scene Five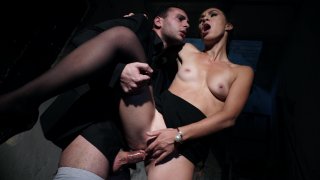 Tiffany masturbates in the office (fully aware that she is being captured by a surveillance camera) before taking part in a boy/boy/girl threesome in an abandoned mill.