'Mountain Crush 2' Loves High-Altitude Sex
We see a lot of porn movie box covers here at Adult Empire. There's the elegant Victoria's Secret-style simplicity of a Vixen cover. There are classic porn covers that hungrily advertise all of the movie's action with pics and call-outs. There are some that we can only describe as "web brutalism" (yes, surprisingly, that's a thing, and you can read up on it here). There are some that are downright confusing. When we first saw the cover of Private's Mountain Crush, with its shot of an amorous couple atop a mountain, among the new release lists, we thought, "Well, that has to be photographic trickery. Sure they didn't really film a porn movie in the mountains." A quick look at the movie itself revealed that, oh yes, they certainly did! The lush scenery made Mountain Crush a porn movie to remember, and now it has gotten a snowbound sequel just in time for your winter ski trip.
The movie is actually somewhat less ambitious than the first installment. While all the action in part one took place outdoors, several of the scenes in Mountain Crush 2 are confined to ski lodge interiors (albeit ones with some pretty spectacular vistas in the background). We'll overlook that timidity in this case, though, because Mountain Crush 2 also features two blowjob scenes that take place in ski lifts. We're getting dizzy just thinking about it, but we have to admire Private's chutzpah! It earns the Snow Bunnies subtitle the old-fashioned way. Observe: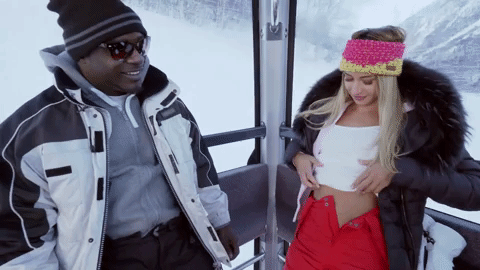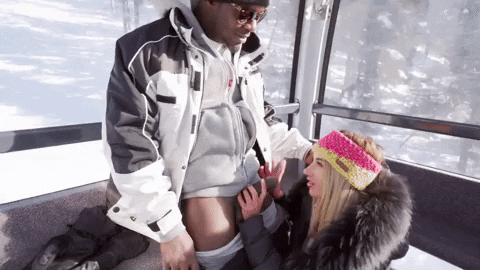 So, this winter as the mercury dips and you contemplate what movie to fill your cold winter nights . . . line up the Mountain Crush movies as a double feature!