'Sex With My Trainer' Debuts (AE VOD Exclusive)
Imagine the perfect sexual partner. What characteristics would they possess? They'd probably be young and energetic, full of sexual enthusiasm. They'd probably be open-minded and daring. And they'd probably be in peak physical condition, with a body to die for!
That pretty much sums up every performer who appears in movies from Web Young. The studio's professed goal is to show the "hottest teen pornstars of today and fresh faces in the industry, telling erotic stories of young lesbian love and bringing you along for the journey of exploring themselves and their sexuality," and they fulfill it to perfection. The latest effort from Web Young, Sex With My Trainer, debuts on Adult Empire as a VOD exclusive (through 12/12/17)! Although the first scene fits in with the fitness theme of the title, the two following scenes branch out in their own unique directions. Check out a scene-by-scene breakdown:
Scene One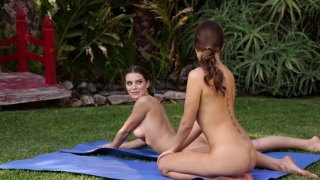 Riley Reid met trainer Lana Rhoades at a party thrown by Megan (Rain, perhaps?). She's decided she wants to get fit and gives Lana a call. Lana's delighted, and decrees that Riley needs a workout free of any burdensome distractions, such as those pesky clothes she's wearing. The firecracker combo of Lana and Riley makes this the most memorable scene of the movie! Both make excellent use of their eye-popping flexibility.
Scene Two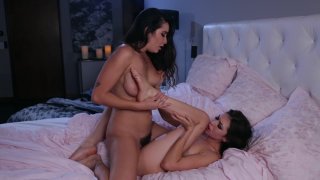 Karlee Grey and Melissa Moore are roommates and best friends. One fateful night, Melissa overhears Karlee masturbating in the bed next to her. She giggles but does nothing, but Karlee takes matter into her own hands by sneaking up on Melissa and stuffing panties in her face. Karlee is ready to take their friendship to a new level! Both performers end up soaked in sweat, which is exactly how a scene like this should end.
Scene Three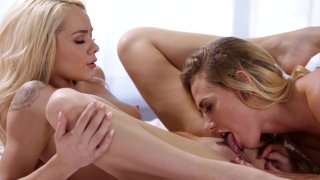 Elsa Jean and Carter Cruise kiss and pretend to be lesbians to fend off catcalling jerks in a passing car. Though they've never gotten physical before, Elsa senses a sexual connection. After some prodding, the reluctant Carter decides a little experimentation might be fun, after all! Performer chemistry wins the day once again, thanks to the appealing pairing of the wide-eyed Elsa and husky-voiced Carter.