Guest Blog: Brett Rossi is Delicious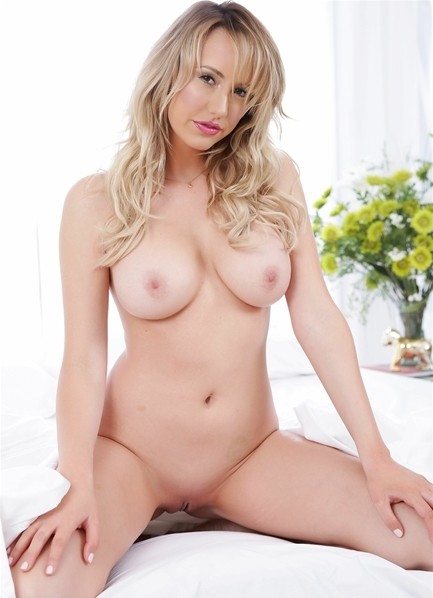 Editor's note: The following blog post was written by Brett Rossi on her experience shooting her star showcase Delicious from TrenchcoatX.
Succulent, mouthwatering, delectable, finger-licking good, and rather….
I supposed the majority of my fans would use some of those terms to describe the gal they have been watching on their electronic devices of choice and fantasizing about now for the last 6 years—an onscreen, mesmerizing sensation with a doll-like face and girl-next-door attributes that has created, as of late, a rather big stir both professionally and personally over the last few years in a very public way.
You're probably wondering why I am speaking of myself in third person, as if describing someone I've just met or, rather, fallen in love with. The truth is, I have fallen in love with myself and it took what felt like a long hike up Mount Kilimanjaro to get there.
Brett Rossi was merely an affectation that I created 6 years ago as a way to channel my highly charged curiosity through elements that piqued my interest. The key word being, affectation. Fast forward to today: simply Google my name and you will find that I am no longer a creature of the night hiding behind an alter ego with the ability to disappear into the abyss like most people in the adult entertainment business. I can finally say I have come to terms with the fact that Brett Rossi has evolved from a put-on character into a full person due to the evasiveness of living under the public's microscope. It is crazy the things you sacrifice for love, but never in my wildest dreams did I think she would be the reason for the strong, independent, somewhat aberrant but always secure woman I have become.
You are probably wondering why my new showcase, Delicious, would inspire me to write such a philosophical blog considering most people's jives are directed in the opinion that I am simply "a porn star having sex on camera for money". Such generalizations are unfortunate, because this showcase has so much more depth and meaning for me. Delicious doesn't just display what others secretly fantasized about. Instead, this movie represents a rebirth of my career, as well as a new chapter for me personally.
Delicious displays a much more mature side of me than what my fan base is used to. It was important for me to fulfill a lot of my sexual fantasies that I have suppressed for so long. I wanted to provide a shock factor not only for my fans, but also for my peers in the business. I wanted to come back making a statement. I wanted to come back showing a woman who had a better grasp on life and was comfortable enough in her own skin to indulge in what she desired without needing the approval of others.
With that being said, please enjoy Delicious and see what all the hooplah is about.
-B