Small Hands Interview: Alt Porn, Life With Joanna Angel, Whiskey & More
Pornstar, graphic designer, Doom's Whiskey creator — Small Hands has big aspirations, and he's always had the talent to make them come true. Check out our new Small Hands interview and get to know one of the poster boys of alt porn (and husband of Burning Angel's Joanna Angel)!
How did you come up with  your stage name?
I wanted something that was simple, easy to pronounce, non-intimidating, yet retained a classic eloquence and rolled off the tongue well…..or perhaps I just didn't really have any ideas when I filled out the paperwork the first time I shot a scene, and it was all I could come up with on the spot? I'll never tell!
What job did you hold before becoming a porn star?
I have toured the world playing in bands, worked bartending and mixology in various San Diego cocktail bars and nightclubs, ran a printing company, been a graphic designer, modeling, cleaned toilets, worked as a landscaper . . . calendar kiosk in the mall . . . Candy Striper in a hospital . . . Frozen yogurt shop . . . I've pretty much done it all!
She was a client of mine at the print company I ran, we made all her merchandise that she sold in her online store.  A mutual friend and former male performer (Brian Street Team) set us up on a blind(ish) date and the rest as they say is history!
What's it like being married to a female performer?
I can only tell you what it's like to be married to JOANNA ANGEL 🙂 ….and it's a pretty wild, adventure-filled awesome time! I am truly the luckiest man in the world to live the life i live AND get to be married to such an amazing person as Joanna.
Who are your favorite performers to work with?
Everyone who wants to work with ME! If there's good energy and chemistry, that's my favorite.
In the AE Films movie Villain, you were Katrina Jade's first on-screen anal. What other stars have  you gotten to share in their "first" type of scene?
Ohhhh, that was such a glorious day with Katrina, I adore her!  I've done several girl's "first porn scene ever" as we have a Burning Angel series called It's My First Time and I'm in a bunch of those scenes!  Definitely worth checking out! I also have done several girl's first gangbangs, group scenes, dps etc!  Too many to name at this point haha but it's always super fun and and honor to be apart of anyone's first anything!
You've been described as an "alt-porn star." How would you define "alt porn"?
If people want to describe me as such, more power to them! the term doesnt bother me,  although I don't really see it that way…I'm just Small Hands!  I don't care to define or worry about whats "alt-porn", as I don't think I make "alt-porn"….. I just care about GOOD porn.
What is the most bizarre question you've ever been asked in an interview?
"Would You Have Sex With Me?"
Do men frequently ask you how they can get into porn, and if so, what is your usual response?
Yes. I ignore the requests and DMs. Or try and think of something funny if I have to respond.
You're also a graphic designer. What's one of your pet peeves when it comes to porn DVD graphic design?
Bad Graphic Design.
How did the idea of getting into whiskey come about?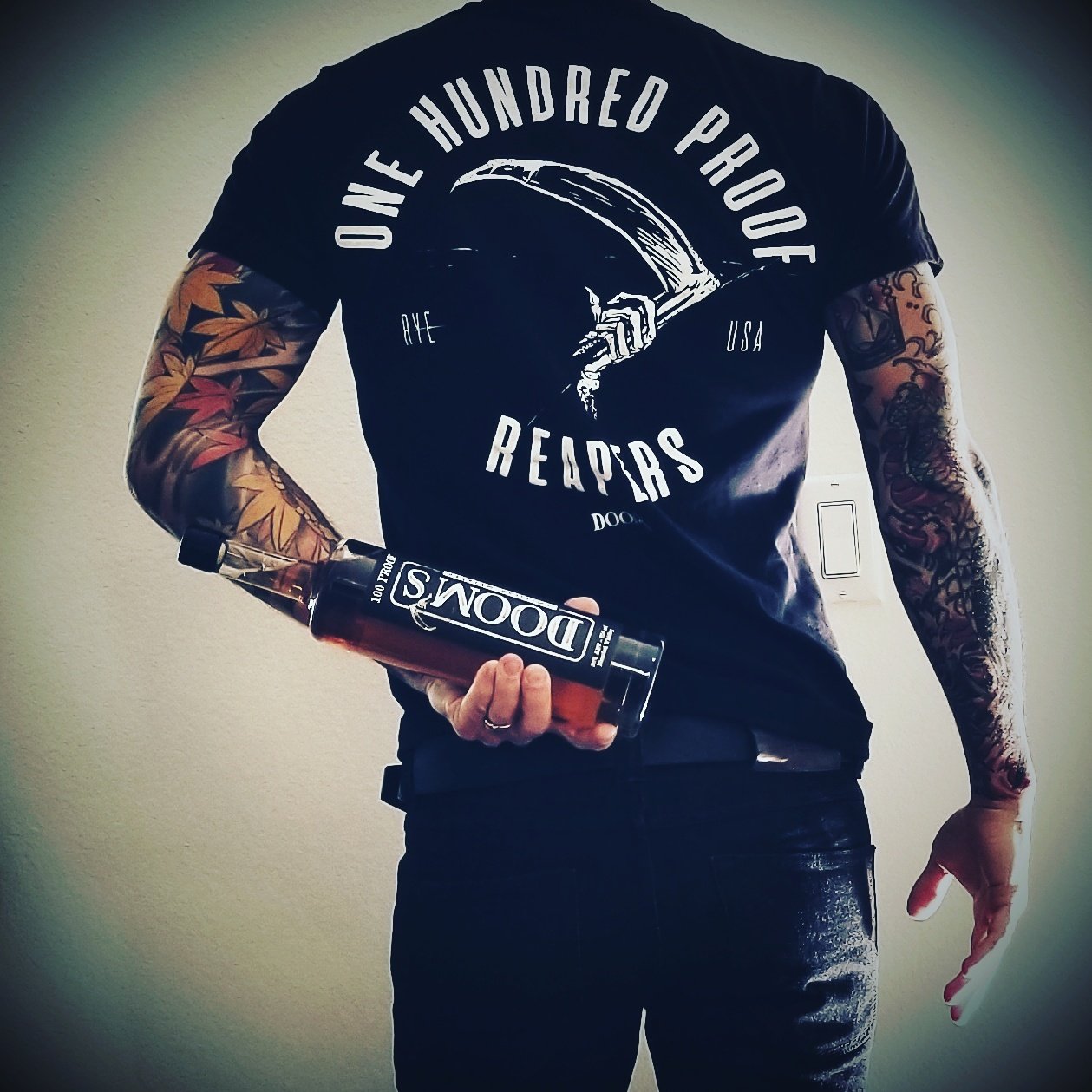 I've worked in bars for years, studied alcohol wine and spirits, as well as have traveled to several countries learning and experiencing different types of distilling, alcohol history and culture etc. I've always had a passion for booze, and Whiskey is my favorite Spirit, so about 5 yeas ago Joanna and myself were brainstorming about our next business venture and we decided Whiskey would be fun. So for the next 4 years I worked on creating DOOM'S WHISKEY, a 100 Proof Rye that came out November of last year! Cheers!
What are the differences between setting up and building a brand in the alcohol industry vs the adult industry?
I can get drunk building the DOOM'S brand…..not so much while performing an hour long gangbang 😉
Browse Small Hands porn videos here.