Two Classic Blu-ray Reviews: 'China & Silk' and 'Babyface'
Editor's note: The following post was written by Adult Empire reviewer Willy Milano.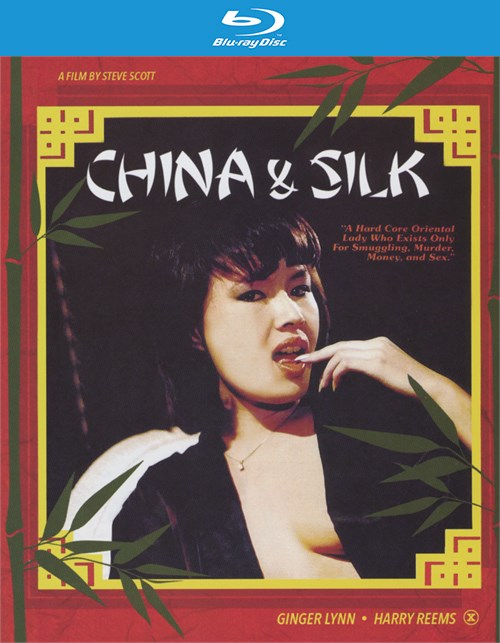 China and Silk from 1984 is a film by Steve Scott with Harry Reems as the main character. The movie is about dope smuggling and the LAPD trying to nail Lily Chang (Kristara Barrington) for it. This is an action thriller featuring classic porn renowned dudes like Paul Thomas, Herschel Savage and Peter North. Let's find out if this flick is worth your time and your bucks if you're into classic, vintage porn!
The story starts in the Cambodia war in 1969 with a soldier getting shot and an Asian girl taking care of him. Quickly, the story changes from Cambodia to the current day (1984) and very soon, we have the first sex scene featuring gorgeous Kristara Barrington and Paul Baressi eating and fingering her pussy while she's in doggy position kinda wearing a sexy, red outfit! He pumps her pussy in doggy style and very soon he jizzes her booty, she sucks his cock clean.
There's a major bust in the airport, but there's no proof at the end. Undercover detectives Ginger Lynn and Herschel Savage are working hard trying to get proof of Mrs. Chang's dope smuggling. Meanwhile, Paul Thomas is getting nice head from Tawny Mason while his partners are working hard. They also perform a nice 69 and weird 69 with Paul on top (this is actually very rare, a 69 with the guy on top). He fucks Tawny's hairy pussy in missionary position for around five minutes until he cums in her belly!
Whistleblower Susan Hart meets with tough cop Harry Reems and after initially denying information for him, she kisses him passionately and gives him a blowjob while they're in a parking lot in his car. He plays with her hairy snatch and fingers it before ramming her in doggy style while they're still in the car (in public). He fucks her nicely with firmness and then, jizzes on her booty. Later, Mr. Reems goes to the morgue to recognize the body of his colleague Paul Thomas who OD'd. This gets things moving a little faster because they don't believe he was a druggie.
The plot continues with the cops digging around the bad girl covering up nicely. Blonde hottie Cara Lott needs a fix and she goes to Kristara Barrington for it. She has to pay with sex and soon, the blonde is sucking the perky tits of the Asian girl! Cara also licks Kristara's pussy and fingers her, and they even use a Hitachi massager to play. Next, we have Peter North and Biff Malibu playing with three girls: Gina Carrera, Susan Hart and Debbie Northrup. This small orgy is good, but there are a lot of close ups to the faces and genitals, and not a lot of action focusing on the bodies. They make a circle of oral sex but as I said before, not a lot of zoom-outs to fully appreciate it! Peter North releases a huge cumshot here!
Herschel Savage is ready to play and he does it with Cara Lott. She gives him a hot blowjob and he returns the favor with oral sex and fingering for her hairy pussy. Ginger Lynn is listening to her undercover partner fucking the hot blonde and she gets in the mood. Cara gets her pussy drilled in missionary position and she gets quite a cumshot!
Herschel goes back to the stake-out van and a very horny Ginger Lynn is waiting for him. The seduction happens very slowly as he gets her completely naked and gives her oral sex. She gives him a nice blowjob and rides his cock seductively in cowgirl position. This scene was pretty much about making love in cowgirl position and he almost jizzes inside of her pussy, but didn't!
There's more plot that gets the cops closer to the dope smuggler and they also honor their late friend. Ginger Lynn takes one for the team as she gets to please Eric Edwards trying to uncover the secret of drug smuggling. She gives the fancy guy and nice blowjob and gets impaled in reverse cowgirl as her jealous partner Herschel listens to the action in the stake-out van. She almost takes a cumshot inside!
The plot finally gets solved and Harry Reems gets busy with sexy Asian Kristara Barrington. They're naked lying in bed and she gives him very hot head while he plays with her hairy pussy. He jizzes her face and mouth after the very sexy blowjob. The plot continues to offer a normal twist and a final.
Extras include: Audio Commentary from Cinematographer Tom Howard and Moderated by Filmmaker David McCabe, Commentary from Actor Herschel Savage and XRCO Co-Founder Bill Margold.
Overall:
China and Silk wasn't really a very entertaining film. The movie is not long, it's barely 87 minutes but it felt like four hours of content and not good one. Sex was very short, not arousing and the close-ups to the faces and genitals was exaggerated. I think the best scene featured Ginger Lynn and Herschel Savage making love, the rest was normal, boring sex. This movie is a skip from my point of view.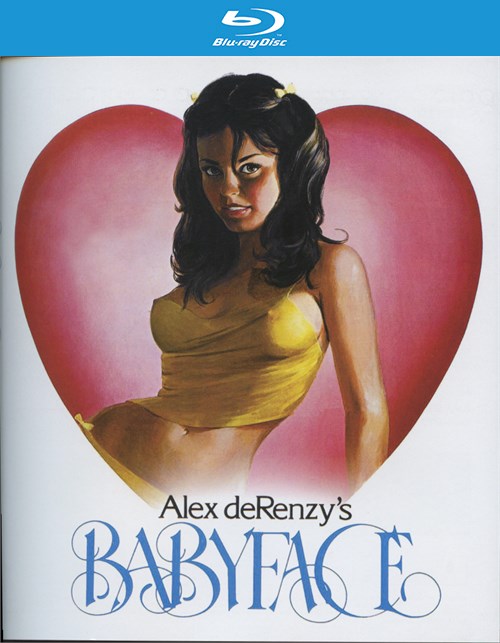 Babyface is a classic movie from 1977 featuring Dan Roberts in the lead as a construction worker on the run. He goes to hide to "the training camp" a brothel for women and obviously men are sexually exploited. The movie opens-up showing you Priscilla, a very pervy young girl trying to seduce her teacher, but he's strong enough to kick her out of the room. Later, we have Dan showing his goodies to the female clients of the brothel until one picks him up.
Angela Haze is the first one to hire Dan and he plays nicely with her hairy pussy while others watch in the background. At first, I thought this could lead to an orgy, but the others leave the room. Angela sucks Dan's dick while he plays with her wet pussy, she rides his cock in reverse cowgirl and then, he fucks her in missionary position with energy! Then, in the middle of sex, he starts remembering how he ended up working as a gigolo.
Turns out Lyn Malone (pervy schoolgirl Priscilla) is part of the reason he ended up in a brothel. He takes the young cutie to see rabbits and he ends up all handsy with the young girl. He gets her completely naked and teaches her to suck his cock; she rides his dick nicely in cowgirl position and he also fucks her in missionary jizzing on her tummy. Then, hell unleashes for Dan! The action goes back to the first sex scene featuring Angela Haze and this time, Dan is fucking her in doggy position and belly-down!
There's more plot intertwined with past and current plot events in the main character's life. Amber Hunt and Linda Wong nurture and take care of a hurt Dan Roberts and once he's doing better, the girls enjoy a very playful threesome with Dan. They take care of his dick with a blowjob while he plays with their pussies using his fingers. The threesome is very interactive with a nice amount of pussy pumping and pussy-eating for the girls until he unloads the cum on Linda's tummy!
Hot, dark-skinned beauty Desiree West is pretty much forced by Paul Thomas to have sex in the brothel (even though she didn't ask for him). The action gets hotter for me when she finally decides to just fuck him without a struggle and he nails her hairy snatch in missionary position intensely! He cums on her belly and then, he orders her to lick pussy to another girl. Amber Hunt joins the couple and Desiree eats pussy nicely while Paul makes out with Amber. There's fantastic interaction between the trio and this time, Paul focuses more on fucking Amber in different positions. The girls focus on sucking his cock at the end and squeezing his juice out to share it between them!
The plot continues with the professor showing up to Priscilla's place and telling the mom about the overactive sex drive of Priscilla in class, but the mom kicks him out denying his accusations. In the brothel, Dan gets a whipping (literally) from kinky customer Sandy Pinney who wants him to rough her up after the whipping. There's different plot added after the brothel scene with way many new characters including Joey Silvera and super sexy MILF Charla Miss.
Charla seduces young Joey with caresses and her yummy tits! We go back to the brothel with Sandy and Dan kissing passionately; meanwhile, Joey is already sticking his dick on Charla's hairy pussy in missionary position! Sandy ride Dan's cock in cowgirl position and he controls pumping; she takes out his dick and rubs it against her own butt-crack to make him cum and she sticks it in again! Joey continues banging Charla intensely in doggy position and cums all over her back and her ass!
Next, there's filming in the airport and even a San Francisco taxi cab, this time we're shadowing Kristine Heller (a new character). She gets a recommendation for the training camp brothel from her taxi driver. Meanwhile, Priscilla's mother is back on the screen and she's willing to avenge her "innocent" daughter.
Kristine gets to the brothel, and she picks Dan Roberts and Joey Silvera. The kinky girl gets busy in the middle of the guys and Dan fucks her pussy while she gives exquisite head to Joey! They nail her really good from both ends, and the also take turns at her pussy while the other rests. Dan jizzes all over her belly first and then, Joey jizzes all over her labia and bush!
Kristine calls for two more dudes and she gets Blair Harris to pump her asshole while Joey Silvera, John Leslie, Turk Lyon, Ken Scudder, Paul Thomas and a couple of uncredited more performers take turns at fucking her while she's on a sex swing! Angela Haze joins the action to fluff the guys and get them ready to keep fucking Kristine in this pervy gang bang!
Revengeful mom Molly Seagrim goes looking for Dan and they have a nice chat before he gets playful with the needy mom. He fingers her super hairy pussy and makes her enjoy the moment then, she wraps him in plastic completely as a way to play, and only leaves a hole on his mouth and his dick to give him a very passionate blowjob! She rides the dick in reverse cowgirl and cowgirl positions and she shows hot moves! Molly jerks him off intensely and makes him cum on her hands and mouth!
The plot gets fun with the crazy mom on the loose in the brothel for a couple of minutes. Priscilla shows up to save the day. The movie ends with a bang (literally) with little Priscilla (Lyn Malone) fucking Joey Silvera and Paul Thomas! They take turns at her bald pussy in different positions like standing up and cowgirl position; the guys jizz her up nicely in the face!
Extras include: Molly Seagrim Interview (1 hr. 9+ min./audio only), Passion Princess (12+ min./bonus scene), 5 Reels (chapter selection).
Overall:
Babyface is not a long movie, a quarter before 2 hours. There's a lot of plot from different characters and the sex is usually very short (maybe 3 to 5 minutes each scene). If I didn't have to review and write down everything I was watching on screen, I would have had more fun. This movie definitely captures your attention in a good way with great plots and very realistic and arousing sex. However, the sex scenes are too short for me to enjoy, you start to get in the mood and then, "pop" the cumshot! Still, very arousing and fun movie I think it's a must-watch for fans of classic or vintage porn!