Take Five: Teagan Presley
build your collection: 5 quick teagan presley picks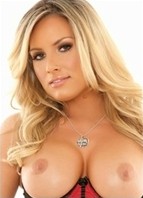 Teagan Presley takes her stage name from Elvis's daughter Lisa Marie, and if there's any pornstar who will leave you "all shook up" in the absolute best of ways, it's this tantalizing Texan. The Digital Playground vet and Adam & Eve star has appeared in some of the most famous and spectacular adult movies of all time as well as making high-profile appearances in magazines like Penthouse. In the latest edition of our Take Five series, we've selected a lineup of Teagan favorites that you'll definitely want to check out.
where it all started: This teen series (not to be confused with Pink Visual's similarly named lineup) features Teagan's very first scene, released in 2004 when she was a fresh-faced newbie and (you guessed it) just over eighteen. It's quite a debut, including reverse cowgirl, doggy and missionary.

2
Grindhouse XXX: A Double Feature
feature pick: While Teagan famously had a supporting role in Digital Playground's legendary Pirates, for this category, we've spotlighted a feature where Teagan had a more prominent part. Styled after Quentin Tarantino's exploitation extravaganza, Grindhouse XXX pairs two intentionally "so-bad-they're-good" '70s type flicks, highlighted by Teagan's turn as a student who becomes avengeful assassin when her girlfriend (Nina Mercedez) is kidnapped. Think Charles Bronson, but way sexier.
wild, weird and unmissable: Teagan works a whip with such skill and flair, we think she'd probably be a good choice for a very kinky Indiana Jones spoof! Perfect for lovers of BDSM, this Adam & Eve showcase finds Teagan in a dungeon, whipping any and all comers into hardcore shape! "Oh, snap" indeed.
playtime: Hey, who said they all had to be movies? Pick up Fleshlight's Superskin replica of Teagan's intimate parts, pair it with any Teagan movie, and you've got the perfect XXX combo.
reviewer favorite: We wouldn't normally spotlight a compilation in our Take Five series, but this one deserves special attention. Adult Empire's Oranje perfectly captures the movie's appeal: "It's hard to have a bad film when Teagan Presley and Jenna Haze are the lovely ladies on offer. One seems to be a throwback to the bombshell era, the other a lithe performer who seems to want to fuck whether the camera is rolling or not. Any compilation that puts the two of them on one disc is well worth some attention, as neither gets cheated when it comes to an on-camera performance. Methinks you'll be well pleased with Teagan vs. Jenna."
Browse Teagan's complete filmography here.